The Scottish sisters taking classical music uptown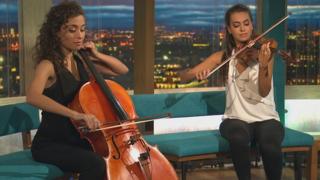 Two Scottish sisters, who shot to prominence with their version of Mark Ronson's Uptown Funk, are topping the UK classical music charts with their debut album.
The Ayoub sisters have included their violin and cello version of Ronson's funk track on the new album but they first posted it online when they were starting out two years ago.
Sarah Ayoub, 24, told BBC Scotland's Timeline programme: "Uptown Funk was the first pop cover that we ever attempted to play and upload on to YouTube.
"Mark Ronson invited us to Abbey Road studios to re-record it for the Brit Awards 2016."
Her younger sister Laura, who had her 22nd birthday on Thursday, says: "It definitely allowed us to get a foot in the door and helped us manage to show our music to a lot more people and gain a lot of opportunities, so we were very grateful for that."
The sisters grew up in Bearsden on the outskirts of Glasgow and went to the Douglas Academy School of Music in Milngavie.
They were both classically trained, with Sarah graduating from the Royal Conservatoire of Scotland in Glasgow and Laura studying at the Royal College of Music in London.
Their parents are both Egyptian and moved to Glasgow shortly before they were born.
Cellist Sarah says: "We are Scottish-Egyptian so traditional music from both countries played a part in our influences."
Their debut album, recorded at Abbey Road with the Royal Philharmonic Orchestra, is an eclectic mix of tracks, ranging from Michael Jackson's 'Billie Jean' to Shostakovich and Johann Strauss.
Laura, who plays violin, says: "The whole album is accompanied by a symphony orchestra so throughout the whole disc there is a classical sound.
"The repertoire that we chose spans from Scottish music to Arabic music to popular music like Uptown Funk and core classic repertoire."
According to Laura, the siblings began to learn music at the same time.
She says: "We started on piano when I was four and Sarah was seven.
"We started learning at the same time but it was only about two years ago we made a conscious effort to try to establish ourselves as a duo."
That effort appears to have paid off with a record deal with Decca, a hit album and a tour with choirmaster Gareth Malone coming up.
In the past few months, they have performed at Glamis Proms and with the National Youth Orchestra of Scotland.
The sisters will be off to France next week, followed by a trip to China.
They have previously joined forces with the Royal Scottish National Orchestra to record a medley of Scots anthems including Auld Lang Syne and My Love is Like A Red Red Rose.
But they have no concerts planned in Scotland.
Laura promised to return soon.
She says: "Scotland is home. The best audience is always here."