'I'm 31 and spent six months in a nursing home'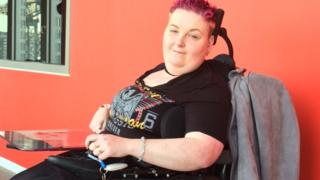 Danielle Farrel is 31 and has had to overcome the obstacles of cerebral palsy all her life, but she says spending six months in a care home for the elderly was "soul-destroying".
The move to a nursing care came after the specialist home in which she had lived for more than seven years closed down.
Danielle was given the option of moving back to live with her elderly father in the rural Ayrshire town of Kilbirnie, or going into an elderly home until something else could be found.
She says it was hard to cope with life in the nursing home, coming after the support she had received at the Red Cross Options for Independence home in Irvine.
During her time there Danielle had continued her education and studied for a PhD at the University of the West of Scotland.
Dr Farrel, as she can now call herself, runs a social enterprise business which advocates for people with disabilities to make sure they get what they are entitled to.
She told BBC Scotland's Stephen Jardine programme that she needs daily support with personal care tasks, as well other things such as shopping and getting about.
But she has always been determined to speak up for her needs.
Special education
Danielle was diagnosed with cerebral palsy when she was about 18 months old.
"I wasn't reaching the normal milestones like sitting up on my own, taking my first steps, things that you would normally expect a child of that age to be doing," she said.
After attending a mainstream primary school, she chose to move to special education for high school.
She credits that school with offering her the right support to get her Highers and go on to college and university.
"The school I attended at the time was the only special school in Scotland that followed the mainstream curriculum," she says.
"I know that different people with cerebral palsy will have different views on this but for me it was the right step to take."
---
What is cerebral palsy?
Cerebral palsy is the name for a group of lifelong conditions that affect movement and co-ordination, caused by a problem with the brain that occurs before, during or soon after birth.
Stephanie Fraser, chief executive of Bobath - Scotland's Cerebral Palsy therapy centre - said: "It is an umbrella condition that means everyone is affected differently.
"One size does not fit all and therefore it is very difficult for people to plan services."
Ms Fraser said people's life chances were significantly changed if people could have access to physiotherapy and speech therapy at an early stage..
---
Care in the community
In 2008, when Danielle was 22 and living with her father, his house was flooded and she was moved into temporary accommodation.
She realised that the support and independence offered by the specialist home had allowed her to achieve much more, and she stayed for seven years.
Last year Red Cross House closed, with the charity saying it wanted to focus its efforts on care in the community instead.
Danielle said it was repeatedly suggested to her that she could move back in with her elderly father.
But she says it would have been a struggle for them both and would have meant losing her independence.
She says the only other option was to move to a nursing home while suitable accommodation was found and adapted.
Speak up
Danielle says: "It was probably, at times, soul-destroying to be in that kind of environment.
"I have been told by people that work with me that it said a lot about me as a person to be able to cope with it.
"Myself and a lot of people from Red Cross were put in those environments but other people did not have the voice or support that I have to be able to speak up."
Danielle has set up a business called Your Options Understood (YOU).
She says: "I use my experiences of living with a disability to help others or their parents/carers.
"We do advocacy, staff training, consultancy or self-directed support (SDS) advice."
'Huge step forward'
She is trying to help prevent other people ending up in the same situation that she had faced.
Stephanie Fraser, the chief executive of Bobath, Scotland's Cerebral Palsy therapy centre, said accommodation was a huge issue for people with cerebral palsy.
Ms Fraser said that the move to "self-directed support (SDS)" should in theory put individuals in control of how the money to provide their care is spent.
However, the new policy is still in its early stages and is taking time to roll out.
She said: "I long for the day when it actually does give people more control and organisations like Danielle's advocacy business are helping real people navigate this system."