'Bullying' probe chief constable has 'special leave' extended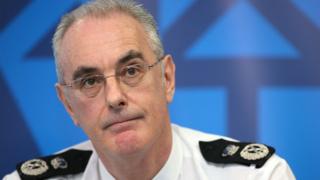 Scotland's chief constable is to remain on special leave for another month while allegations of gross misconduct against him are investigated.
Phil Gormley went on leave four weeks ago following a series of complaints about alleged bullying.
He is currently facing three separate investigations by an independent watchdog, but denies any wrongdoing.
The Scottish Police Authority's board considered that it was "appropriate" for him to remain on leave for now.
Allegations first surfaced in July, when Mr Gormley confirmed he was the subject of a probe by the Police Investigations and Review Commissioner. This concerned a complaint made by a superintendent in his private office.
He initially remained in post, but stepped aside in September after a further complaint was made.
The SPA put him on a period of special leave, rather than considering suspension, which they said would be reviewed after four weeks.
With a third Pirc investigation underway and a fourth complaint sent to the SPA, the board decided it would be appropriate for Mr Gormley to remain on leave.
What complaints have been made against Mr Gormley?
A spokesman for the SPA said: "The board has assessed and agreed that a continuing period of leave remains an appropriate measure to address investigative and welfare issues for all parties involved.
"The Scottish Police Autority has written to the chief constable confirming a continuation of his leave of absence, which will be reviewed again by Friday 3 November."
Police unions have expressed disquiet at the board's action, arguing that there is no provision for special leave for more junior officers.
Mr Gormley denies the allegations, and has said he intends to resume his duties in future.