Cancer patients hit by benefits cuts, charity claims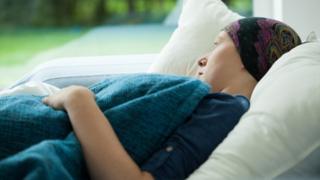 The health of cancer patients is being put at risk by a benefits cut that came into force six months ago, according to a leading cancer charity.
Macmillan Cancer Support is calling on the Scottish government to use new powers to reverse UK government cuts to Employment Support Allowance (ESA).
It claims 280 cancer patients in Scotland have lost out on £120 a month since April.
The Scottish government said Westminster should reverse the cuts.
Ministers at Holyrood have the power to "top-up" reserved benefits like ESA, under the provisions of the Scotland Act 2016.
A spokeswoman said it had taken action to mitigate welfare reforms like the so-called "bedroom tax" but it wanted to see the UK government make the changes to ESA.
Meanwhile, the Westminster government insisted that the "vast majority" of people receiving or recovering from chemotherapy or radiotherapy received a higher rate of support.
'Campaign vigorously'
The cut to ESA came into force across the UK in April for all new claimants who are considered too ill to work but are expected to return eventually.
Macmillan claims that reversing the Westminster cut for cancer patients would cost the Scottish government £400,000 a year.
The charity said that represents 0.5% of the government's £85m underspend which was revealed last week.
Its head of policy, Kate Seymour, said: "People recovering from cancer should be focusing on their health, not how to pay the mortgage or keep the heating on.
"SNP MPs joined Macmillan to campaign vigorously against the cut at Westminster, and a number of MSPs also spoke out against it.
"We will continue to campaign against this unfair benefit cut at Westminster, but we have an opportunity in Scotland right now to make sure no one has their recovery from cancer hampered by financial struggles
"We urge the Scottish government to make Scotland the first place in the UK to reinstate this vital benefit for a vulnerable group."
Case study: Lynn Laing
Receptionist Lynn Laing said if the benefit cut had come in when she was recovering from cancer, she wouldn't have been able to cope.
The 56-year-old, who was diagnosed with breast cancer in 2010, said: "It was horrendous. I couldn't work. It was the tiredness - I was physically exhausted.
"I couldn't get my head off the pillow. The chemotherapy knocked me for six and I just wanted to sleep all day. Then I was in and out of hospital for six months afterwards with various infections."
Previous research by Macmillan found that 80% of cancer patients in Scotland are worse off by £420 a month after diagnosis.
Even with sick pay and ESA, Lynn and her husband Charles, who was in temporary employment, got into arrears with their mortgage and council tax payments.
'It was a godsend'
"The solicitors were going to put us out of the house," says Lynn. "I got some money from Macmillan which I used to pay the mortgage and keep the wolves from the door.
"If they'd cut my ESA, that would just be absolutely horrendous. I would hate to have had that done to me. Without it, we would probably have been homeless.
"It's such a shame the government decided to remove this benefit. It would be really good if it could be reinstated.
"Although it doesn't sound like very much money, it was a godsend at the time.
"If it wasn't for that money, I don't think I'd have got well enough to get back to work".
A spokeswoman for the Scottish government said: "Tackling poverty and inequality is a key priority for this government and we are fully aware that the UK government's welfare cuts and austerity are having an adverse impact on many people's lives.
"That's why we are taking action to mitigate the UK government's welfare reforms. Since 2013/14 we have invested over £350m to support low income families- including fully mitigating the Bedroom Tax to ensure more than 70,000 households save around £650 per year and are able to stay in their own home.
"Employment Support Allowance is a UK government benefit and if they are serious about helping people into work as they say they are, they should reverse these cuts."
People who are eligible for ESA are placed in one of two groups. Those in the "support group" are not expected to do anything to improve their chances of finding work; those in the "work-related activity group" are asked to do activities that might improve their chance of getting a job in the future.
A UK government spokesman said it was committed to ensuring that people with cancer were supported in a "sensitive and appropriate way".
"The vast majority of people preparing for, receiving, or recovering from chemotherapy or radiotherapy are placed in the ESA support group and receive a higher rate of support," he added.