Holly Alexander's mother: 'I hate Scotland'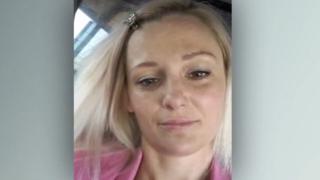 Holly Alexander moved from the US to Dundee to open a pizza shop with her husband in 2014.
Just over a year later the 37-year-old mother-of-three was stabbed to death in the flat she shared with known drug dealer Ronnie Kidd, who was also murdered.
The man who killed them, Krzysztof Gadecki, had been served with a deportation notice by the Home Office because he was on parole for a rape and robberies he had committed in his native Poland.
During the court case, advocate depute Bill MacVicar said New York-born Ms Alexander was recovering from heroin addiction when she emigrated and she relapsed in Dundee.
Her relationship with her husband broke down.
Ms Alexander's mother, Lorraine DiPalermo, told the BBC she hated Scotland for letting her down and failing to help when she was trying desperately to get her daughter to leave.
She said Ms Alexander had split from her husband and was living with Kidd, who she had met on a methadone programme for drug addicts.
Her mother said Ms Alexander became addicted to diamorphine and Kidd was feeding it to her to keep her with him.
In October last year, three months before the murders, Ms DiPalermo flew over from her home in New Hampshire determined to take her daughter back to the US to get help.
"I went to the doctor and begged them to have her psychiatrically committed because she was not herself," Ms DiPalermo said.
"She could not make a decision. She showed up in pyjamas. It wasn't her because she was so under the influence of drugs, she was psychotic from it.
"They would not help me."
Ms DiPalermo said she then begged the police to arrest her daughter.
"I told them I had been to the apartment and there was drugs and there was a gun," she said.
"They went and raided the apartment. They found the drugs, they found other weapons but they said there was no gun.
"They never did anything."
She said: "Ronnie Kidd was an informer so they didn't want to disrupt him and that's why my daughter's dead."
Ms DiPalermo contrasted the attitude of the Scottish police with that of the US authorities.
She said: "If someone was in the States and their mother came to the police and said what I said, and showed them what I showed them, they would have definitely got that person out of there. Absolutely.
"If someone is asking for help, give it to them."
According to Ms DiPalermo, Ms Alexander's husband was also asking the police and the authorities to do something.
She said he had tried to have her deported after they split up because her visa to stay in the UK was as his spouse.
"Nobody would help us," Ms DiPalermo said.
"She was drugged beyond comprehension, you could hardly recognise her. She could not make decisions."
"They should have made her leave the country right away. She was on an illegal visa. She was with a drug addict who they knew was selling drugs.
"She was addicted to diamorphine and she was being fed it constantly to stay with this guy."
Ms DiPalermo said: "The police would not arrest her and send her home so now she is dead because of a guy you let in from Poland who was a rapist. I hate Scotland."