Scotland's papers: Scots honeymooners hid from gunman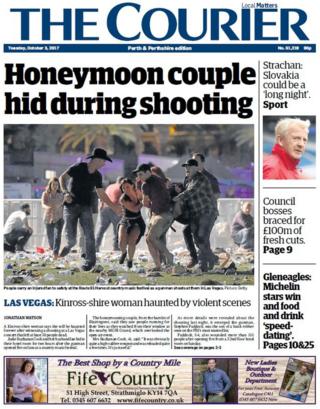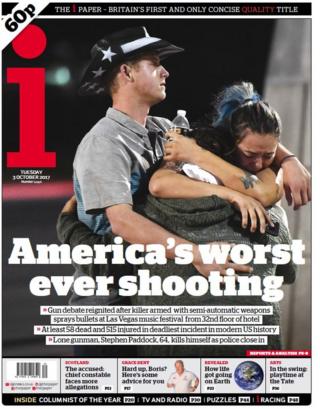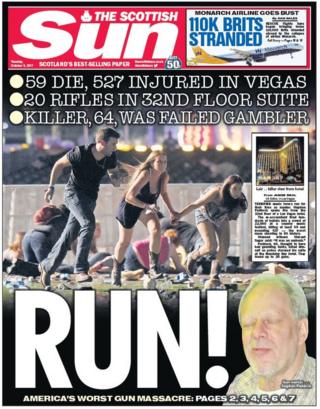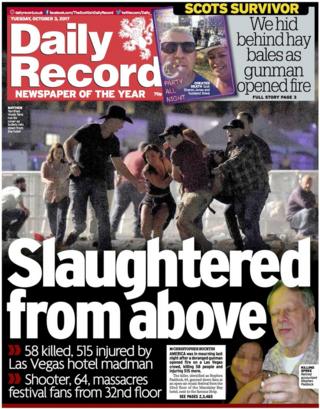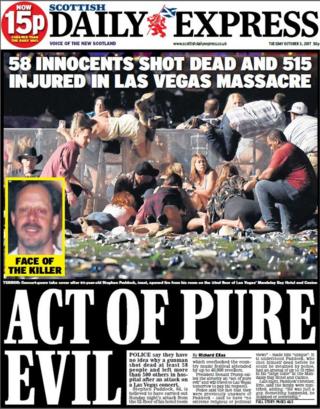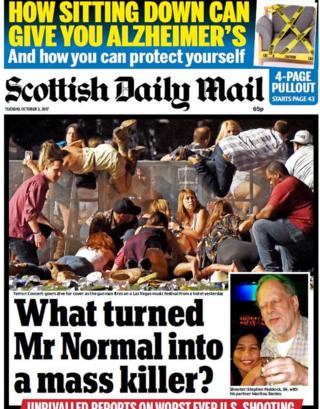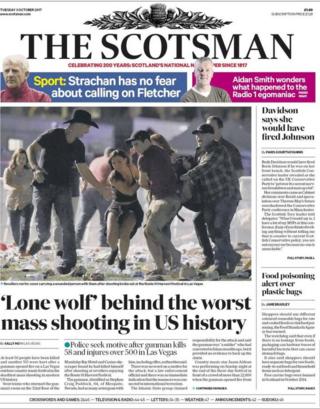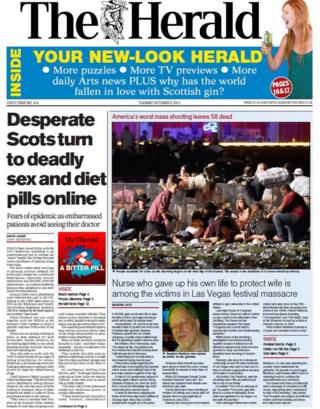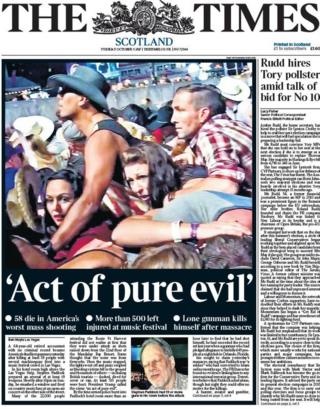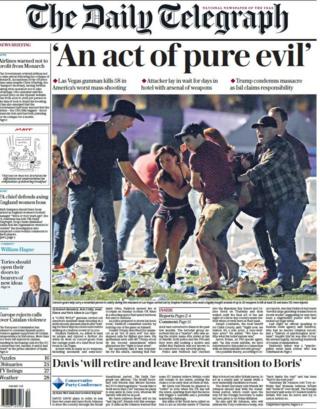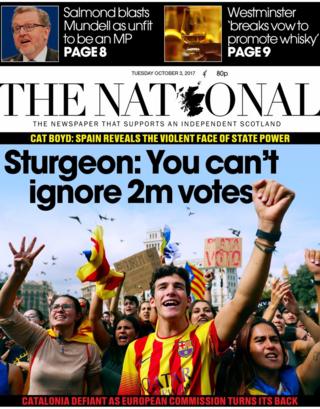 Scotland's papers devote their front pages to the latest mass shooting to strike America. A Kinross-shire woman says she will be haunted forever after witnessing events at the Las Vegas concert where at least 58 people were gunned down. The Courier reports how Judie Buchanan Cook and her husband Ian hid in their hotel room for two hours after a gunman opened fire on fans at the country music festival.
The gunman, who also wounded more than 500 people in the US's deadliest shooting spree, has been identified as 64-year-old Stephen Paddock, writes the i newspaper.
Under the headline, Run, The Scottish Sun says that Paddock is thought to have had gambling debts and killed himself as police stormed his suite at the Mandalay Bay Hotel.
The Daily Record features the story of Scot Sharon Jones, who told of the "absolute bedlam" after the gunman started spraying bullets into the crowd. The 51-year-old, originally from Kilwinning in Ayrshire, said the massacre started minutes after she had gone down to the front of the crowd to get some snaps of country star Jason Aldean.
Some 22,000 people were in the crowd when Paddock opened fire, sparking a panic in which some people trampled on others in their desperate bid to escape as law enforcement officers scrambled to locate the gunman, according to The Scottish Daily Express.
The Daily Mail claims that Paddock was a multi-millionaire who took a huge arsenal of 23 guns into his hotel room, which he then transformed into an elaborate sniper's nest before opening fire on the country music festival on Monday.
The Islamic State group claimed responsibility for the attack, saying the shooter had converted to Islam, but provided no evidence, says The Scotsman which adds that Nevada authorities say they believe Stephen Paddock acted alone, and no motive was yet known.
In other news, The Herald claims that police and medicines watchdogs have joined forces to tackle the "acute" health risk of mass Scottish online purchases of "Indian lifestyle drugs".
Amber Rudd, the home secretary, has hired the pollster Sir Lynton Crosby to help craft her next election campaign in a move that will fuel speculation she is preparing a leadership bid, according to The Times.
The UK Brexit Secretary David Davis plans to retire in 2019 and leave Boris Johnson to steer the UK through the transitional period, The Daily Telegraph has revealed.
Nicola Sturgeon has become the first European head of government to back the Catalan independence vote, says The National. The paper writes that the first minister has refused to go along with a consensus emerging among leaders agreeing with the Spanish authorities' view that the vote was not legal.