More school inspections to be carried out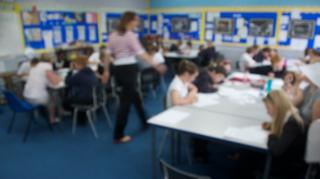 The number of school inspections carried out across Scotland is to increase significantly from next year onwards.
Inspectors will visit 250 schools each year compared to 180 at present.
National agency Education Scotland said this was one of several measures it was taking to better support parents, teachers and head teachers.
More details about the increase in the number of inspections are to be announced later in the year.
Education Scotland said it hoped the move would make it easier to support teachers and head teachers and play a part in raising attainment
It hoped that between the inspections and its other work to raise standards, its staff would manage to reach every school in Scotland every year.
Karen Reid, interim chief executive of Education Scotland, said: "Increasing school inspections signals the first step in a radical new way Education Scotland will work to support and drive improvement in schools.
"We will strengthen our inspection function, but also work more with parents, teachers and schools to help raise standards.
"Robust inspections are a powerful tool to support improvement and ensure every young person gets the best possible education.
"They provide assurance about what is working well, but also evidence what improvement is needed where."
Education Scotland said the increase in the number of inspections was an important part of what it said would will be a new approach to scrutiny and improvement. This year it expects to visit 180 schools.
The team of so-called "associate assessors" - practising principal teachers, depute head teachers or head teachers - will be extended and have more involvement. An existing teacher or practitioner will join every school inspection from April 2018, except when very small schools are being reviewed.
Meanwhile Education Scotland plans to deploy most of its education staff to work with frontline leaders and practitioners.
They will work through the new regional improvement collaboratives being set up to help share good practice across council boundaries. The collaboratives will be expected to drive curriculum support and development.
Graeme Logan, interim chief inspector of education said: "For us to achieve our national endeavour of excellence and equity, we need the new Education Scotland to be supporting teachers and driving improvement in education for all learners across Scotland."
He added: "Education Scotland is a partnership of people who believe passionately in the power of education to change lives.
"As well as our core staff team, we have 200 associates in all parts of Scotland - experienced teachers and practitioners who work with us directly.
"We want to extend this further so that there is a current practitioner on every inspection team to share practice more effectively."
'Young inspectors'
Education Scotland said the findings of inspections will help it further strengthen its leadership and professional learning programmes,
The agency also hopes to make more use of learners in its work.
It said young people would work with inspectors and support and drive improvement in learning and would set up a team of so-called "young inspectors".
It will publish a version of How good is our school? - the guide used for improvement in every school in Scotland - for young people by next April.
A spokesman for teaching union the EIS said changes in recent years had altered the inspection process in a bid to make it "a less stressful and more constructive, supportive experience".
He added: "Inspectors now have a clearly defined responsibility for offering support, disseminating guidance and sharing good practice.
"It is right that the main emphasis is on the types of support that can be offered to schools, rather than a more narrow focus on the number of inspections carried out in any particular time frame."
The changes at Education Scotland come as the government plans a major shake-up to school governance.
Head teachers will be given a greater range of formal powers.
The threat of a major row with councils over the planned changes - especially the regional improvement collaboratives - appears to have gone away.
A deal over the role of the collaboratives was agreed last week by education secretary John Swinney and council umbrella body Cosla.
Some in local government had feared that the planned changes would seriously weaken the role of councils in the education system.
Education Scotland's plans also included what it calls a "single approach" to the inspection of early learning and childcare with the Care Inspectorate.
It says it would contribute to 1,800 inspections per year as it tried to support the expansion of care and learning for the youngest children in Scotland.