Fourth bullying complaint made against Chief Constable Phil Gormley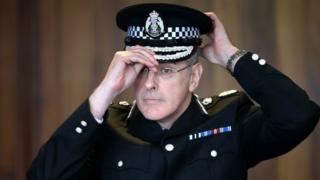 A new complaint has been made against Police Scotland's chief constable.
It is the fourth allegation of bullying made against Phil Gormley to be received by the Scottish Police Authority (SPA).
Mr Gormley stepped aside in September amid investigations into two allegations.
The Police Investigation and Review Commissioner (Pirc) also confirmed on Monday it would be investigating a third complaint referred last week.
All three of the complaints would amount to gross misconduct if found to be true - which could lead to dismissal.
In a statement, the Pirc said: "The Police Investigations and Review Commissioner is investigating further allegations of gross misconduct about the chief constable.
"Following a referral by the Scottish Police Authority on Wednesday 27 September 2017, the commissioner has assessed that the conduct which is the subject of the allegation would, if proved, amount to gross misconduct."
It went on: "As all three investigations are live it would be inappropriate to comment further at this time."
What complaints have been made against Mr Gormley?
The SPA granted Mr Gormley special leave in September rather than considering suspension, but will review that on Friday.
The authority is making no comment on the fourth allegation.
Once each investigation is concluded, the commissioner will send reports to the SPA, summarising the evidence and providing an opinion on whether the allegations should be referred to a misconduct hearing.
Mr Gormley has previously denied all of the allegations against him and has said he intends to resume his duties in the future.
He was given notice on Monday that the third complaint would be investigated, Pirc confirmed.
Mr Gormley was appointed as chief constable of Police Scotland in January of last year, and his contract still has more than a year to run.
Deputy Chief Constable Iain Livingstone has taken over leadership of Police Scotland until further notice.