National Trust for Scotland appoints Neil Oliver as president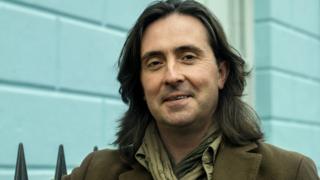 TV presenter Neil Oliver has been appointed president of Scotland's largest conservation charity.
The historian and archaeologist was confirmed in the role at the National Trust for Scotland's annual general meeting in Dundee.
Mr Oliver takes over from Lord Lindsay who has held the position since 2012.
The broadcaster qualified as an archaeologist in 1988 and has presented programmes for the BBC and Channel 4. He has also written several books.
The National Trust for Scotland's AGM took place in Caird Hall. The meeting also addressed the issue of how to attract more young people to engage with heritage and review the charity's performance over the last year.
Chairman Sir Moir Lockhead said: "Neil has championed Scotland and its heritage throughout his career - unearthing new insights into its stories, sharing our stunning scenery and fascinating audiences all over the world.
"We are very excited about the energy, enthusiasm and opportunities for more engagement that he will bring to our charity as we work to protect Scotland's heritage, and share and celebrate all that we have to offer with more people."
Sir Moir offered a formal thank you to Lord Lindsay at the meeting, paying tribute to his "huge contribution" to the trust.
Speaking ahead of the meeting in Dundee, Mr Oliver said: "The National Trust for Scotland protects so much of what makes Scotland special.
"Over the years I have dug up some of its places, visited many more and been completely inspired by it all. I can't wait to get more involved and I'll be encouraging others to do the same."