How would you spend money to fight cancer?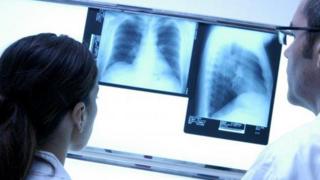 If you had millions of pounds to help fight against cancer, how would you spend it?
That was the challenge that faced 24 top cancer experts, who were meeting this week in Edinburgh.
They have been sifting through hundreds of funding applications to see who should receive £4m funding raised by the St Andrews-based charity Worldwide Cancer Research.
Its chief executive, Dr Helen Rippon, told BBC Scotland's Stephen Jardine programme, the charity was founded in 1979 by a scientist at St Andrews University.
She says Dr Colin Thomson was a "cutting edge" researcher, who was using supercomputers in the late 1970s to design cancer drugs.
Dr Rippon says: "He believed a space existed for a cancer research funder who was really willing to go out there and look for the pioneering research."
The charity, which was originally called the Association for International Cancer Research (AICR), has been running almost 40 years and says it has allocated £200m of funding to 1,800 projects.
Its money comes from about 100,000 regular subscribers across the UK and donations from wills or one-off gifts.
Dr Rippon says the charity funds research across the world and there is no cap on how many people can apply.
This year's funding round attracted 760 applications and it was looking for the best 20.
The process of whittling down the entries can be a bit like a medical version of TV programme Dragon's Den, Dr Rippon says.
"We put a call out and say pitch us your best ideas," she says.
"We say pitch us the thing you really want to do in your research that you need to get funded and they submit a written pitch for assessment."
To decide which projects to fund, Dr Rippon says the charity "harnesses the expertise of thousands of scientists across the world".
Every application they receive is looked at by other scientists and the strongest ones are then further reviewed by leading researchers, she says.
The final stage is the decision by a committee of 24 leading cancer researchers from across Europe.
Dr Rippon says: "These are people themselves working at the cutting edge so they recognise cutting edge science when they see it."
The cancer chief would not reveal details of the latest funding round because the scientists involved had not yet been informed.
But she says one of the emerging themes in cancer research at the moment is harnessing the power of "computational biology".
This involves using computer data to find patterns among the "messy biology" in which cancer develops.
The idea is to use features that emerge from big data to predict how cancers will progress or how they can be treated.
Another area that excites Dr Rippon involves harnessing the power of the body's own immune system.
She says: "It is looking at whether you can reawaken the immune system to the fact that there is cancer there.
"One of the jobs of the immune system is to spot when cancer is forming and kill it.
"So when a tumour forms somehow it is hidden or it has evaded that immune response.
"So if we could flag to the immune system that there is a cancer and actually it should be dealing with it, that's a very effective treatment."
Dr Rippon says treatments of this kind are already being developed.
"There are treatments for melanoma which are new and are tremendously effective for some people who would have had a really poor prognosis a few years ago," she says.
"That feels like a really elegant way of treating cancer."
Dr Rippon says there will be "no magic bullet" or single cure for cancer because it is actually hundreds of different diseases, with tumours developing in distinct ways.
But she says: "We'll get smarter about treating the way the cancer is made up and what is driving its growth."
And looking back over the four decades of the charity she says there has been enormous progress in the field of cancer research.
She says: "If you look at the state of scientific knowledge in the early 1970s, we did not really know basics about where cancer comes from, how it arises and how it grows.
"That has changed enormously.
"So understanding the nuts and bolts, the mechanisms of how cancer works, is so important and we have come such a long way."
Real strides
Dr Rippon likens it to fixing a broken car. You can't do it unless you understand how the engine works, she says.
"We have come so far in understanding how the engine of cancer works.
"There is still a way to go, for sure, but I think over the next five to 10 year we will see real strides forward in cancer treatment and prevention and diagnosis."
Dr Rippon says there is much cause for optimism.
"I think one day cancer will be something we can contain and something you can live with as a chronic illness, if not be cured outright.
"I really hope by the time my seven year old son is a grown-up, cancer will no longer be something to fear."