Starter for 10: Can Alasdair win University Challenge?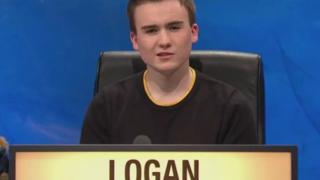 Here's your starter for 10: "When did a Scottish institution last win University Challenge?".
Answer: It was 1983.
Dundee were the last team from north of the border to take the trophy on the classic BBC quiz show.
St Andrews is the only other Scottish university in the programme's 54-year history to take the title, winning the year before Dundee in 1982.
Can Alasdair Logan be the man who can change that?
Earlier this week the 20-year-old captain of the Strathclyde University team answered 16 questions and led his fellow students back from a 75-point deficit to beat former winners Imperial College London.
The fourth year mechanical engineering student scored 110 points of his team's 145 point total in the first round showdown.
He told BBC Scotland's Stephen Jardine programme most of his reading these days was done on the bus from his home in Motherwell to university in Glasgow.
He said: "I have probably done more reading on the X11 than anywhere else."
General knowledge
Alasdair became captain of the Strathclyde team after he got the highest marks in a selection quiz in September last year.
The team then went on to be one of the 28 teams selected to appear in this year's series, only the fourth time Strathclyde have ever qualified.
Alasdair told Stephen Jardine he was not particularly a quiz fan but he'd always liked University Challenge, which is widely regarded as one of the toughest general knowledge quizzes on TV
"I have always watched it and recently I realised I could get quite a few questions right," he said.
"The experience of watching it helps you understand how to answer questions and a wide-range of reading in various fields of culture outside of mechanical engineering really helped."
Early stages
Alasdair said he did extra reading before the programme but "it is very difficult to revise considering the amount of subjects they can ask questions about".
"Most of the questions I answered were things I had learned about before I knew I was going to be on the programme."
His remarkable performance in the first round contest didn't look likely in the early stages and Alasdair admits he did not think it was going to be his night.
"It was a big comeback," he said.
"We were down 75 points and at that point I wasn't thinking that we'd win.
"It is all about momentum and once I started getting a few, I realised we had a good chance of coming back."
Press the buzzer
He said the team rehearsed answering questions on the buzzer before the show and it helped build confidence.
"To press the buzzer with (Jeremy) Paxman half way through his question is quite intimidating.
"We did a bit of practice with the buzzer and I found it quite helpful because it is quite an esoteric skill being able to interrupt questions."
So what is the secret to acquiring such a wide-range of knowledge and to be able to answer questions on Booker prize winning authors, Austrian botanists and European football?
Alasdair said he reads a lot of fiction which helps with the literature questions but he also takes a keen interest in history, art and philosophy.
And one more thing.
"Wikipedia I suppose, it is the encyclopedia of our time," he said.