Hundreds of places on teacher training courses unfilled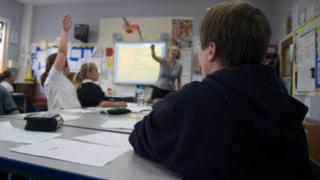 Hundreds of places on teacher training courses are unfilled, BBC Scotland has learned.
The BBC understands a quarter of places on postgraduate courses for people who want to be secondary teachers have not been taken up.
Similar difficulties have been experienced for a number of years.
Teaching union the EIS said the figures were a wake-up call to the government to make sure teaching is an attractive career option.
The Scottish government recently launched a fresh advertising campaign to encourage graduates to train as teachers.
The number of places on postgraduate courses for secondary teachers is agreed between the universities and the body which pays for the places - the Scottish Funding Council. It is set at a particular level to try to anticipate the likely demand for new teachers.
The figures come amid concern over the problems faced by some councils recruiting teachers - especially in science, technology and maths.
The number of unfilled places on courses will provoke debate on the reasons why many graduates do not appear to want to become teachers.
Possible issues include:
The range of job opportunities available to graduates at a time of low unemployment.
How attractive teaching may look as a career option.
The perception of the profession - some worry that the political debate surrounding education and the challenges facing teachers may give some a misleading impression of the job.
Whether more new routes into teaching are needed to complement traditional paths.
The normal route into secondary teaching in Scotland is a Postgraduate Diploma in Education followed by a probationary year.
The General Secretary of the EIS, Larry Flanagan, said the number of unfilled places on courses should represent a "stark warning to government" of the need for action to make teaching more attractive.
He said: "This will require additional action to reduce excessive levels of teacher workload and a firm commitment from local authorities and the Scottish Government to improve teachers' pay which has been declining, in real terms, for more than a decade.
"Increasing the places available for student teachers will have no impact on the growing teacher shortage if those places aren't taken up. We are close to the edge of a significant challenge in terms of teacher recruitment."
The Scottish government said it was committed to ensuring that there was the right number of teachers, with the right skills, in the right places to educate Scotland's young people.
A spokesman said: "We recognise that some councils face challenges in relation to teacher recruitment, as do universities recruiting teaching students, and we are committed to addressing these challenges with our partners.
"For our part we have increased student teacher intake targets for the sixth year in a row, and we are setting targets to train teachers in the subjects where they are needed most. We have delivered a successful recruitment campaign, and we will build on this with a refreshed campaign which launched at the end of August."
He added: "This year alone we have invested £88m so every school can access the right number of teachers, and £1m from the Attainment Scotland Fund has also been made available to support 11 new innovative routes into teacher education."
---
READ MORE ON THIS:
---
BBC Scotland research revealed there were approximately 700 vacancies across Scotland at the start of the new term in August although many councils stressed that filling some of these vacancies was unlikely to prove difficult.
However, BBC Scotland highlighted the challenge facing a school in Fife which needed a new computing teacher while problems filling a vacancy in the maths department at a school in Edinburgh provoked political discussion at Holyrood.
Entry into the teaching profession in Scotland is strictly controlled by the General Teaching Council for Scotland - an independent self-regulatory body.
The GTCS has also approved a few other courses to try to widen the range of applicants into the profession. For instance, a new course at Strathclyde University reduces the length of time some STEM graduates take to complete their postgraduate qualification and probationary course.
'Increased flexibility'
A spokesman said: "We are aware of the difficulties some universities are having, and have had in recent years, in attracting students through the traditional routes. There are a range of often complex reasons for this.
"GTCS has been very proactive in accrediting new routes that offer increased flexibility to applicants and we have also taken other actions to attract teachers into the profession such as provisional conditional registration which offers flexibility to those applying from outside of Scotland.
"Society is changing and it is important we continue to encourage people into teaching by talking up the positive impact teachers have on our children and young people rather than being constantly negative about teaching as a profession."
The government is expected to publish a tender document for another new course shortly to complement the existing routes into teaching.
Unions have warned that any attempt to introduce courses which place trainees in charge of classes within weeks will be fiercely resisted.
The fact fewer people are in teacher training than anticipated could cause some councils continuing difficulties.
Some new teachers say they are prepared to spend their probationary year within any Scottish council area that needs them and earn more money in return - others specify where they want to go but earn less.
Some councils which experience recruitment difficulties find this set-up helpful as a way of dealing with local problems.