Sistema Big Noise orchestras can 'transform' lives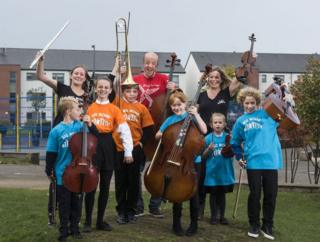 A youth orchestra scheme which provides free music tuition in deprived areas has the potential to "transform" children's lives, a report has found.
Education Scotland said the "Big Noise" orchestras helped to improve the life chances of children who took part.
The scheme is run by charity Sistema Scotland, which set up the first orchestra in Raploch, Stirling, nine years ago.
Others have been launched in Glasgow, Aberdeen and most recently Dundee.
Education Scotland reviewed the Stirling, Glasgow and Aberdeen centres in April 2017.
The orchestras are based on a pioneering Venezuelan project which was started in 1975.
Nicola Killean, chief executive of Sistema Scotland, said: "I am delighted that the Education Scotland report has recognised our key strengths and highlighted the commitment and quality of the staff team and the child-centred approach.
"Big Noise is about using music as a tool to engage with children and young people and it's the quality of people we recruit and train, and the relationship they build with the children, families and communities, that allows us to have maximum impact."
The Big Noise orchestras, which provide free music tuition, are run in partnership with the Scottish government, Stirling Council, Glasgow City Council and Aberdeen City Council.
The report found that the projects helped build trust and increase the self-esteem of children involved, as well as boosting confidence, concentration and building a "resilient mindset".
Other findings included:
Music tuition helped early language development and listening skills
The orchestras provided a safe environment for children with "positive relationships and role models"
High ratio of adults to children strengthened focus on individual needs
Big Noise said it had taken on board Education Scotland's recommendations that Sistema Scotland continued to improve their work with more focus on "tracking and monitoring progress" and community development.
Culture Secretary Fiona Hyslop said: "As the Education Scotland report highlights, Sistema Scotland is making a significant and positive impact, improving the lives of the children and young people involved in the programme and benefitting their families and the wider communities in Raploch, Govanhill and Torry."
The Scottish government has invested £2.5m in the project.
The latest Big Noise orchestra was launched in Dundee earlier in September.