Third complaint against Phil Gormley probed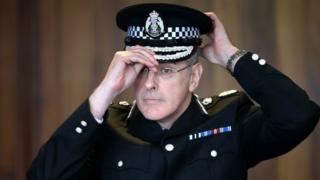 A third complaint against Scotland's top police officer has been referred to the independent Police Investigation and Review Commissioner (Pirc).
The complaint against Chief Constable Phil Gormley was being examined by the Scottish Police Authority, which has now passed it to Pirc.
The allegation against Mr Gormley was made by a police inspector.
Mr Gormley stepped aside earlier this month amid Pirc investigations into two other complaints against him.
It is understood the complaint made by the inspector would amount to misconduct if found to be true, while the other two would be classed as gross misconduct - which could lead to dismissal.
Mr Gormley, who is currently on "special leave" from the force, has previously denied all of the allegations against him, and has said he intends to resume his duties in the future.
---
What complaints have been made against Mr Gormley?
In July, Pirc began an inquiry following allegations made by a police superintendent of bullying which, if proved, would amount to gross misconduct.
Last month a second complaint - by an inspector - was received by the SPA which has now passed it to Pirc.
Earlier this month, the chief constable was told Pirc was investigating a third complaint which came from either a senior civilian manager or an assistant or deputy chief constable.
---
Mr Gormley was appointed as chief constable of Police Scotland - which is the second largest force in the UK after the Metropolitan Police in London - in January of last year, and his contract still has 16 months to run.
In a statement, Pirc confirmed: "The commissioner has received a referral from the Scottish Police Authority regarding allegations of misconduct about the chief constable.
"The content of the referral is now being assessed to establish if an investigation is required. Whilst this process is under way, it would be inappropriate to comment further.
"In addition, the commissioner is currently carrying out two separate investigations into allegations of gross misconduct about the chief constable, both are which are ongoing."