Colleges 'could generate £20bn for the Scottish economy'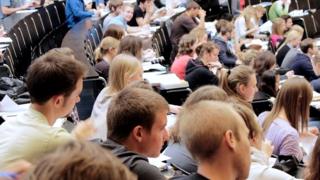 Scotland's colleges could generate £20bn for the country's economy, according to a study by economists.
The Fraser of Allander Institute has been looking at the contribution colleges make across Scotland.
Their report highlights the opportunities a college education provides for individuals and the impact on society.
It argues each college graduate could be worth £55,000 to the economy over their working life.
The study outlined the benefits that a college education provides for individuals, including better employment prospects, increased earning potential and a lower likelihood of unemployment.
Growth rate
It also examined how education can have a positive effect on someone's health and wellbeing.
Graeme Roy, director at the Fraser of Allander Institute, said: "Our analysis examines the economic contribution that a cohort of college graduates makes to the Scottish economy over the long term.
"By boosting the stock of human capital, the college sector makes an important contribution to Scotland's sustainable economic growth rate."
The other key points from the report include:
More than 227,000 students attended college in 2015/16
Colleges provide 28% of all higher education-level study in Scotland
Scotland's colleges directly employ about 11,000 staff and help support other jobs.
Shona Struthers, chief executive of Colleges Scotland, said: "The fact that Scotland's colleges make a crucial contribution to the economy is well known and this research reinforces the key role that colleges play in delivering faster sustainable economic growth.
"The college sector underpins economic activity in Scotland, not only through increasing the employability of learners and their earning potential, but also through helping to supply employers with a skilled workforce to increase productivity.
"Colleges are in a unique position to reach businesses, communities and individuals across Scotland, providing a national network with a regional focus. Everywhere from the Outer Hebrides to the Borders, their impact on the economy, both as individual institutions and as a sector, is far-reaching."