Half of LGBT pupils in Scotland bullied at school, says report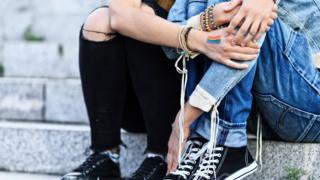 Almost half of LGBT young people in Scotland are bullied at school, a new report has suggested.
Stonewall Scotland research found 48% were bullied for their sexuality in 2017 - a drop from 52% in 2012.
And more than 63% frequently or often heard homophobic language in school, with 91% regularly hearing phrases such as "that's so gay".
The Scottish government said bullying of any kind was unacceptable and must be addressed quickly.
Researchers also found that only a third of the youngsters, aged between 11 and 19, said teachers intervened to stop bullying if they were present.
The proportion of those bullied soared among trans young people, with 71% reporting bullying and 65% saying they were unable to use the toilets they feel comfortable in at school.
The survey found that 96% of trans respondents had deliberately harmed themselves, while 43% had attempted to take their own life.
'Wake-up call'
Stonewall Scotland also highlighted that young people in Scotland were also more likely to hear homophobic slurs than those in the rest of Britain - 63% compared to 50%.
The organisation's director, Colin Macfarlane, said the findings should act as a "wake-up call" for schools, local authorities, government and politicians "to ensure that all schools are equipped to support LGBT young people, and that teachers understand their needs".
He said: "While our new school report shows some modest improvements for LGBT pupils it quite clearly demonstrates how far we still have to go.
"Half of LGBT young people in Scotland are still bullied for who they are, affecting their well-being and their education.
"Worryingly, the majority of trans young people experience bullying, exclusion and poor mental health. They must not be left behind."
The survey was carried out online by the Centre for Family Research at the University of Cambridge between November 2016 and February 2017.
A Scottish Government spokesman said: "Bullying of any kind is unacceptable and must be addressed quickly, whenever it arises - and while this fall in cases is welcome, we must remain vigilant.
"We remain committed to helping our children and young people build positive relationships as they grow older and will carefully consider this report and its recommendations from Stonewall Scotland."