Concern over rise in online sex crimes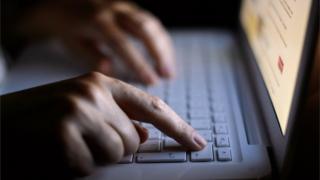 There has been a further rise in the number of sex crimes reported to police in Scotland - largely due to an increase in online sexual offences.
A total of 10,822 sexual offences were recorded last year, an increase of 549 on the previous year and 2,218 more than in 2013/14.
Online offences, often involving teenagers, were responsible for about half of that increase.
Many of the crimes involved sending explicit messages or images.
The latest crime statistics also showed overall recorded crime fell by 3% from 246,243 to 238,651, which is the lowest since records began in 1974.
And although non-sexual violent crime increased by 6%, it remained at one of the lowest levels in recent decades.
The rise in recorded sexual offences is partly because more people are coming forward to report historical allegations, while campaigners also believe victims are now more likely to believe they will be taken seriously.
But it is the growth in online sexual offences that is particularly concerning the authorities.
The Scottish government has published analysis showing that the crime of "communicating indecently" has increased from 605 to 1,166 since 2013/14.
And the offence of "causing to view sexual activity or images" increased from 229 to 1,030 over the same period.
The two offences now account for a fifth of all sexual crimes, with the victims and perpetrators generally being school-age teenagers.
More than three-quarters (79%) of victims were female and more than half (59%) were under 16, while the vast majority of perpetrators were male.
Justice Secretary Michael Matheson, who commissioned the research, said an expert group would now be set up to tackle sexual crime.
The group will see experts from the fields of justice, education and health being asked to develop fresh action to prevent sexual crime and protect young people.
'Wake-up call'
Mr Matheson said: "The sexual crimes research makes clear that more work is required to understand why particularly young males are behaving in this way and to prevent sexual offending."
Solicitor General Alison Di Rollo QC, who recently hosted a summit on educating young people on sexual crimes, said technology was playing an "increasingly significant" role in the number of children and young people who commit, and are victims of, sexual crimes.
And Rape Crisis Scotland's chief executive Sandy Brindley said the rise in online sexual crime was "significant and worrying".
She added: "This is a wake-up call: now more than ever we can see the urgent need to challenge this behaviour by undertaking prevention work with young people across Scotland.
"In our work with young people in schools, they tell us of everyday sexual assault, harassment, and the sharing of intimate images without their consent.
"If we are serious about tackling the increasing levels of sexual crime being experienced by young people, we must ensure that every young person in Scotland has access to interventions on consent and healthy relationships."