12 stats showing how Scotland's households are changing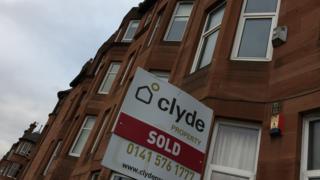 The latest nationwide survey of Scotland's household trends has been published by the Scottish government.
It is the largest survey of its kind and has been published every year since 1999.
---
More private rentals
In 1999 private rentals accounted for just 5% of Scotland's households but last year the figure was 15%.
The survey estimates an increase of about a quarter of a million - from 120,000 to 370,000 over the 17-year period since the survey began.
---
Fewer people have mortgages
The proportion of Scots households which are owner-occupied is about the same as 1999 - at 61%, although this is down from a peak of 66% in 2007.
The big change has been in the number of people who have a mortgage.
When the survey began there were 1.34 million owner-occupied homes of which about 850,000 had a mortgage.
In 2016 there were an estimated 1.49 million owner-occupied households and almost 720,000 had mortgages. The other 780,000 or so were owned outright.
---
Social housing has declined
The social rented sector declined from 32% in 1999 to 23% in 2007 and has remained around that level since then.
About 690,000 households were in social housing in 1999, according to the survey. That figure has gone down to about 560,000 despite an increase in the number of separate households in Scotland.
Local authority social housing has gone down from about 580,000 households to 320,000 over the 17-year period, with housing associations and co-operatives more than doubling to about 250,000.
---
Most private rentals are flats
According to the survey, 67% of private rented properties were flats and 46% were located in large urban areas.
It said 41% of adults in private rented properties had been at their address for less than one year.
In the social-rented sector, 56% of properties were flats.
---
Owner-occupied properties are usually houses
Owned-occupied properties are much more likely to be houses (80%) than flats (20%) and more likely to be located in the least deprived areas of Scotland.
Only 5% of owner-occupied properties had just one bedroom, with two-thirds (66%) having three or more bedrooms.
The survey said 29% of private properties and 26% of social housing had three or more bedrooms.
---
One-third of households are people living alone
The survey showed that 34% of Scots households were people living alone.
It said 36% were two person households, 15% were three people and 15% were four or more.
Social housing was the most likely to have a single person in the property (47%), with private rental being 39% and owner-occupied 28%.
However, 36% of those who owned their home outright were in a single person household.
---
Private renters are younger and more mobile
More than half (53%) of people in the private rental sector are 34 or under whereas just 12% of owner-occupied households are.
About 74% of owner-occupied households are 45 and older.
According to the survey, 83% of private renters have been at their address for less than five years but that figure is just 24% for owner-occupiers.
About 29% of owner-occupiers have been at the same address for more than 20 years. This is 50% for those who own their home outright.
Most people who own outright are over 60 years old (72%).
---
Most people like their neighbourhoods
The survey asked respondents to rate their neighbourhood on a scale from very good to poor.
Most people said their area was either very good (57%) or fairly good (38%) but people in owner-occupied houses were more likely to go for the top rating.
The survey showed 63% of owner-occupied said their neighbourhood was very good, 49% of private rented household and 41% of social housing households.
---
Dog fouling is the most annoying problem
A category called "animal nuisance" which includes dog fouling and noise was reported to be the most common neighbourhood problem in the survey.
It was reported as a very/fairly common problem by 31% of people, just ahead of litter (30%).
Drug misuse (12%), rowdy behaviour (11%), noisy neighbours (10%) and vandalism (8%) were other common neighbourhood issues.
All problems appeared to be more common in the more socially deprived areas.
---
Scots are getting better qualified
The survey showed that 30% of Scots now have a degree or professional qualification. That number is the same for men and women.
The number of people with no qualifications has reduced to 17%. Among the over 60s, the number of people with no qualifications is 75% but for adults under 34 it is just 13%.
About 52% of people who earn over £40,000 a year have a degree. Just 3% of people with no qualifications earn that amount.
---
A quarter of adults are retired
The household survey said 25% of adults over 16 were permanently retired.
It said 37% were in full-time employment, 10% were part-time and 6% were self-employed.
Far more men (46%) than women (29%) worked full-time.
---
Most people have broadband
Home internet access in Scotland is high and continuing to increase, with 82% reporting they had it.
The vast majority of households with internet access at home reported having a broadband connection (98%).
Eighty-four per cent of adults reported using the internet for personal or work use in 2016, while 16% reported not using the internet at all.
The proportion of adults accessing the internet through tablets and mobile phones has also continued to increase.