Pole dancing hobby adds up to business idea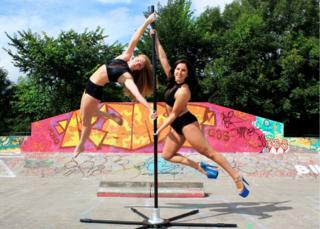 When Maths graduates Kirsten Fairlie and Heather Laughland caught up for a coffee three years ago they weren't planning to conceive a business idea around their shared hobby of pole dancing.
The friends, who were in their early twenties and beginning careers in financial services, were venting their frustration at what they saw as the high cost and long delivery times of ordering their favourite pole-wear clothing from overseas.
The pair, now aged 27 and 25, decided to take matters into their own hands, emailing their first supplier (one of their favourite brands from the United States) that day.
They made a large order with an initial £20,000 investment (made up of all of their savings and a loan) and started selling to friends in the Glasgow pole dancing community from their stock, which they stored in Kirsten's spare bedroom.
Their company "Pole Junkie" was born.
Kirsten said: "Glasgow is a hotspot for pole fitness with around 13 studios running classes so we were sure people would like the concept of popular pole-wear brands being more accessible and affordable to them. "
On the topic of whether pole dancing is associated with the sex industry, Kirsten said: "Predominantly it is just people who pick it up as different form of exercise because maybe they're bored of the gym or they want to try something different.
"I think the majority of people are doing it for a bit of fun and they get more and more into it, and pick up other things like aerial acrobatics as well."
Kirsten and Heather also say the clothing they sell has crossover appeal as swim wear and gym wear.
Cash flow
Heather says: "It did take us by surprise the way it took off.
"We totally just learned on the job how to use social media, how to use Facebook and Instagram to do all of our marketing. It just kicked off straight away."
Pole Junkie had a turnover of £235,000 in the first year, though Heather admits there were some "scary cash flow moments" in those early days.
She said: "We ended up doing extra events and extra competitions just to try and pay import duty bills and stuff like that.
"We were in profit in year one, like a tiny profit. But it was enough just to be able to see that it was viable and actually nine months down the line we both quit our full-time jobs."
Storage space
Three years later, Pole Junkie has gone from stocking one brand to stocking 13, and has delivered more than 23,000 orders to more than 11,500 customers.
It now has an office and storage space in the Charing Cross area of Glasgow and 55% of sales in the past six months have been outside the UK.
The company's top five export areas are Germany, the United States, Switzerland, Sweden and Italy.
Kirsten and Heather recently took home the Business of the Year award at the Pole World Festival.
The next step for Pole Junkie?
Kirsten and Heather want to create their own pole wear range, and have it designed and manufactured in the UK.