Clydesdale unveils new Scottish £10 note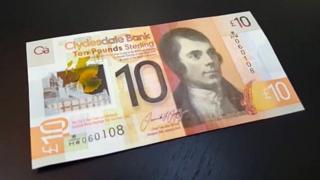 Clydesdale Bank has released the first Scottish £10 polymer note into circulation.
A £5 polymer note was issued last year and the £10 is described as the latest implementation of the "evolving technology" surrounding bank notes.
The new, smaller note features Robert Burns on the front and Edinburgh's Old and New Towns on the reverse.
It also includes new security features, with the outline of Scotland in "shiny ink" over a transparent window.
The older £10 Clydesdale note will remain in circulation.
'Important milestone'
Lorna McMillan, company secretary of Clydesdale and Yorkshire Banking Group, the owner of Clydesdale Bank, said: "More durable and more secure than normal paper notes, the move towards polymer is an important milestone in our history of innovation."
The polymer notes are water resistant, much less likely to tear, and are said to be more environmentally friendly in production.
Ms McMillan added: "We have been issuing banknotes since 1838 and it's just as vital as ever to ensure we are creating and developing currency that is fit for modern-day use."
The notes are already in tiered sizes, and have bold numerals, raised print and different colours to allow easier use by blind and partially-sighted people.