Scottish farmers' bank debts hit record high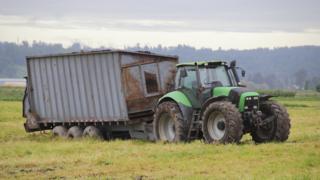 The amount of money that Scottish farmers owe to banks has reached its highest level since records began.
Outstanding loans to Scottish farms rose to more than £2.3bn by the end of May, up by £113m to the highest level since records began in 1972.
On top of bank loans farms also have an estimated £1.1bn outstanding from hire purchases, family loans and elsewhere.
The Scottish government said the fact banks were still lending to farmers was a "sign of confidence in the sector".
The data reflects the overall UK picture, with figures from the Bank of England showing that by May 2017, the UK agricultural, hunting and forestry sector had an outstanding debt of £18.5bn, with debt levels up 57% since 2010.
Record figures
The Scottish figures showed an increase in farming debt north of the border of 5%, up by £113m.
The report said outstanding debt had "remained relatively constant over the period from 1990 to 2010" in real terms, after removing the effects of inflation.
However, there have now been eight consecutive years where liabilities have risen above the rate of inflation, with the overall level now topping a peak set in the mid-1980s.
More than half of the liabilities reported were long-term loans, a proportion that has been slowly increasing over time - in 2003 about 39% of debt was long-term, compared to 51% now.
The figures come after problems with a new IT system caused lengthy delays to the delivery of Common Agricultural Policy (CAP) payments in Scotland.
The Scottish Conservatives said the "fiasco" over the subsidy payments had forced more farmers to take out loans.
MSP Peter Chapman said the figure "show the financial state of farming businesses in Scotland has never been worse", adding: "The SNP's catastrophic management of CAP payments starved the rural community of hundreds of millions of pounds."
Lib Dem MSP Mike Rumbles echoed this, saying: "SNP ministers have bungled their handling of the rural economy time and time again. It is no surprise that when farmers do not trust the Scottish government to deliver farm payments or loans, they are forced to increase bank borrowing."
'Sign of confidence'
Although Rural Economy Secretary Fergus Ewing stressed that farmers should not get into "excessive" debt, he said there could be a more positive interpretation of the data.
He said: "It is vital that Scottish farmers can continue to access capital to invest in their businesses. These statistics show that banks are still lending to farmers, which is a sure sign of confidence in the sector.
"Although debt levels have increased to their highest level since the 1970s, the situation reflects the overall UK picture, with the Bank of England showing that agriculture is one of only two sectors to have seen consistent increases in lending in recent years.
"However, with many farmers relying on subsidies for a large part of their income, we must be wary of farmers getting into excessive and unmanageable debt.
"I would encourage any farmer who is experiencing financial hardship or is looking for help on increasing the sustainability of their farm, to contact our farm advisory service for support."