Police Scotland deputy chief constable delays retirement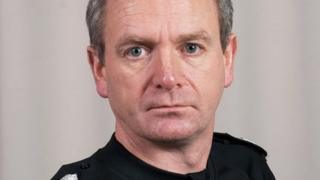 Police Scotland's most senior deputy chief constable, Iain Livingstone, has announced he has shelved his retirement plans.
It comes after the force's chief constable, Phil Gormley, was granted a period of special leave after allegations of gross misconduct.
Mr Gormley, who denies the allegations, is being investigated by the Police Investigations and Review Commissioner.
Mr Livingstone said he would stay for the "foreseeable future".
The officer - one of Police Scotland's three deputy chief constables - was due to retire in the autumn, but wrote to the Scottish Police Authority and the justice secretary to confirm he would remain in post after Mr Gormley announced he was stepping aside.
First Minister Nicola Sturgeon has said it is right for Mr Gormley to step aside while the investigation takes place.
Mr Livingstone said: "Having discussed the matter at length with my wife, family and others, I intend to continue in post for the foreseeable future.
"Given the uncertainty and challenges currently facing Police Scotland, I consider it my duty to remain in service.
"My focus now will be on ensuring that we continue to deliver day-to-day policing services to the people of Scotland and on providing the leadership and assurance that is needed at this time.
"We have a strong and resilient command team in place and we have thousands of dedicated and hard-working police officers and staff who remain committed to providing an excellent service to the people of Scotland."
'Right decision'
It emerged in July that Mr Gormley was being investigated over bullying allegations.
He took special leave after a further complaint was made. Mr Gormley says he intends to resume his duties in the future.
He was appointed as chief constable of Police Scotland - which is the second largest force in the UK after the Metropolitan Police in London - in January last year. His contract still has 16 months to run.
Ms Sturgeon told BBC Scotland that it was right for Mr Gormley to step aside, but she defended the single police force following a turbulent period which has also seen the chairman and the chief executive of the Scottish Police Authority board step down.
The first minister said: "I have no way of knowing whether those allegations have any foundation to them whatsoever, but there is a process of investigation under way. The chief constable has decided - I think rightly - that it would be better for him to step aside while that investigation takes place.
"The fact we have a single police force now means that we have much better co-ordination of police forces across the country - when major incidents happen, the whole resources of the police can be brought to bear, and we don't have the duplication of eight different chief constables and everything that goes with that.
"I think the decision to create a single police force was the right one and will benefit communities across the country."