South Asia floods: Scottish government donates £300,000 from emergency fund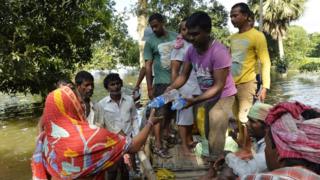 A donation of £300,000 has been made by the Scottish government to help support people left homeless following floods across areas of South Asia.
An estimated 40 million people in Bangladesh, India and Nepal have been affected by flooding and landslides as a result of severe monsoon rains.
At least 1,200 people have died, and homes, schools and hospitals have been destroyed, according to the UN.
The cash is from the government's Humanitarian Emergency Fund.
The fund was launched in April this year to provide immediate, life-saving aid in the aftermath of a crisis.
A panel of humanitarian organisations provides recommendations on how the money should be spent.
International Development Minister Alasdair Allan said: "We will do all we can to respond to global humanitarian challenges, such as the devastating floods in South Asia, and provide immediate assistance to people suffering as a result of disasters, disease or conflict.
"The Humanitarian Emergency Fund highlights Scotland's role as a responsible global citizen.
"The expert panel that recommends how the fund is distributed brings together representatives from leading aid agencies across Scotland to work collaboratively."
Angus Nelson of Oxfam Scotland added: "This hugely welcome cash injection will enable humanitarian agencies to provide lifesaving support to people in urgent need.
"Given the enormous level of need created by the widespread flooding, it is essential for rich countries like Scotland to show leadership by supporting the humanitarian response."