Money spent on TV and film production hits record high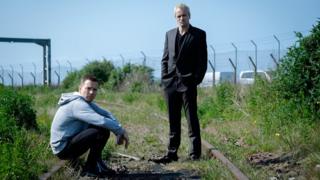 A record £69.4m was spent on producing films and TV programmes in Scotland last year, according to new figures.
Creative Scotland said productions like T2 Trainspotting and Outlander were behind the increase.
They were among projects that boosted spending by 30% on the 2015, when £52.7m was spent north of the border.
Culture Secretary Fiona Hyslop said the figures proved that the Scottish film and TV industry was "stronger than ever".
Edinburgh was used as the backdrop to much of Danny Boyle's sequel to Trainspotting last year.
But Hollywood also landed in the west of Scotland, where The Wife - a drama starring Glenn Close, Jonathan Pryce and Christian Slater - was filmed.
A thriller called Calibre, which is currently in post-production, was set in the Highlands.
And The Etruscan Smile, starring Brian Cox, followed the story of a tough old Scotsman who travels from his island home to San Francisco.
Hit TV series Outlander, In Plain Sight and The Loch were also set and filmed north of the border.
The statistics emerged after the Scottish government announced an additional £10m for the screen sector, bringing investment to £20m next year.
Ms Hyslop said: "These figures show Scotland's film and TV industry is stronger than ever.
"This is good news for our cultural story while bringing significant benefits to the wider economy.
"Production companies are attracted here because of our stunning locations and talented people.
"The additional investment announced this week will help consolidate this growth, enabling us to strengthen and better coordinate public sector support for the film and TV sector."
The government said the figures also reflect the success of the Production Growth Fund, which uses government funds and the National Lottery money to incentivise production in Scotland.
Natalie Usher, of Creative Scotland said: "It is extremely encouraging to see the significant and continued rise in Scotland's production spend figures.
"Throughout 2016, major international productions have continued to base themselves in Scotland.
"Sony Starz have returned to the large-scale production base at Wardpark Studios for Outlander. TV dramas In Plain Sight and The Loch have enjoyed network success.
"Glasgow hosted Björn Runge's feature film The Wife starring Glenn Close, Jonathan Pryce and Christian Slater and Edinburgh also played a starring role in Danny Boyle's T2: Trainspotting.
"The continued growth in production spend is testament to our world class talent, crews, facilities and award-winning locations. It also demonstrates the impact of continued support from Scottish government and the National Lottery through Creative Scotland's funding alongside the UK's Film and TV tax reliefs."
---
Scottish production spend figures by year:
2016 - £69.4m
2015 - £52.7m
2014 - £45.8m
2013 - £33.6m
2012 - £27m
2011 - £29.3m
2010 - £21.5m
2009 - £24m
2008 - £28m
2007 - £23m
Source: Creative Scotland
---