HMS Prince of Wales is coming to life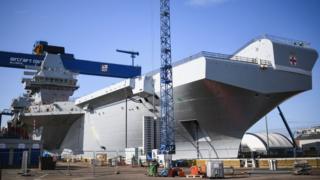 From the captain on the ship's bridge to the fitter cabling the nine decks below him, they deploy the same metaphor - "Prince of Wales is coming to life".
The Royal Navy's second £3bn aircraft carrier is externally complete and about to be officially named.
"The naming ceremony is when we celebrate the structural achievement and the company begin to breathe life into the ship," says senior naval officer Ian Groom.
There's no water flowing through its pipes and power for construction work is all cabled from the grid onshore but early next year, both should begin to work from the ship's own systems.
The dry dock in Rosyth will be flooded around that time, and HMS Prince of Wales will float for the first time.
Work began in 2014, two years behind HMS Queen Elizabeth, which arrived at its new home naval base of Portsmouth for the first time last month.
The Prince has been structurally sound since last year, after blocks of ship were floated from yards around Britain - the biggest of them from the Clyde - for assembly in Fife.
Sea trials begin in 2019, and it won't be commissioned until four years after that.
Meanwhile, Friday marks a vital day in the progress towards that.
The naming ceremony is when the "lady sponsor" does the honours.
That means the Duchess of Rothesay will be the woman associated with the ship throughout its years in service, which could see it through to the 2070s.
And for that reason, today in Rosyth at least, protocol dictates that the wife of the Prince of Wales takes precedence over her husband.
"It's important to have someone who has a relationship with the ship throughout its life," says Ian Groom.
"This is a stage when the Royal Navy can take more ownership. It helps give more, in a sense, life. It changes things in a subtle way."
The ship has 200 of its naval company at present, working with the civilians on the three-firm Aircraft Carriers Alliance, comprising Babcock, BAE Systems and Thales.
More than 500 more naval crew will join by the time the aircraft carrier puts to sea.
A captain for the ship once she becomes seaborne was named this week.
Ian Groom will hand command to Stephen Moorehouse, aged 44, who has already commanded HMS Ocean and the frigate HMS Lancaster.
Having a company of less than 750 is notable for its efficiency.
The biggest new aircraft carriers in the US Navy are half as big again, and have a crew more than three times as large.
Sovereign territory
Last month, HMS Queen Elizabeth sailed into Portsmouth, having completed the first part of sea trials.
With its princely sister ship, the carriers are built to impress and intimidate, their deck described as "sovereign territory" from which up to 40 aircraft can fly, and project military power around the world.
There has been criticism of compromises in the deck design, which constrain the firepower and range of the ships' F35-B fast jets.
But to Ian Groom, much of the ships' role is about politics and presence.
He says: "These ships can be positioned anywhere in the world. They can travel for 500 miles a day We can put a mixture of assets on this - the full 36 jets and 4 helicopters, or a range of other assets.
"What they provide is that choice. They give the UK government a choice to act independently or with our partner nations, to apply pressure or hard military power, or aid anywhere in the world."
'Weapons party'
Below decks, a key link in that force projection is the so-called "weapons party".
Russell Prydderch is chief petty officer, already working on board, preparing for the 27-member team that will arm weapons for aircraft.
He explains their task is to retrieve bombs, missiles, torpedoes and depth charges stored below the waterline on Nine Deck - an arsenal protected by two steel hulls separated by 3 metres.
With full automation, the parts are lifted to Two Deck, for assembly of detonators, tailfins and "lugs" for attaching to aircraft.
Fully armed, a rail-track takes them to the aircraft.
From the command to readiness should take no more than 30 minutes.
It is a reminder that, for all the awesome industrial scale of this shipbuilding project, the end product is a very powerful fighting machine.
With the exception of the vast hangar, the interior of the 65,000 tonne ship is made up of small spaces - 3,000 compartments of thick steel surrounds, with numerous bulkheads to contain the impact of an attack.
Crew quarters are luxurious by naval standards, though this is no Caribbean cruise liner.
Bunk-rooms have space in comfort for six, or more if more people are embarked than usual.
Stephen "JJ" Mackenzie is an experienced shipyard worker - apprenticed on the Clyde in 1974, and due to retire by the end of this year.
He proudly shows media around the carrier.
He says: "The whole ship has been designed through process and flow - from pilots getting out of bunks, to picking up keys, to briefing, to the planes - has been carefully planned so there are no bottlenecks.
"Everything flows as it should. That's the critical part of this ship that makes it so so efficient.
"It's not as big as the big American ones, but it's very efficient in the way these processes run."
That efficiency has been driven into the construction process, even though the two-carrier project has soared over its initial budget to £6.2bn.
The Aircraft Carrier Alliance claims that it is achieving a cost reduction of between 20% and 25% over the Queen Elizabeth, and it could be ready around eight months earlier than target.
Design clashes are ironed out earlier. There's no rush to exit the dry dock to make way for sections of another ship. Sequencing of work can be smoother.
"Ship One was sort of the dummy run," jokes Petty Officer Aircraft Handler Nathan Attis.
"There's a lot of rivalry, though it's friendly banter. We learned a lot from the others. We can pick up on things earlier."
---
HMS Prince Of Wales
Cost: £3bn
Flight deck length 280m (900ft)
Weight: 65,000 tonnes
Range: 10,000 nautical miles
Crew: 700
Capability: Able to carry 36 F35B jets and four helicopters
---
This shipbuilding project has taken 15 years already.
It has transformed the Royal Dock at Rosyth from a maintenance base to one for assembling hulls.
With less than two years left in dock, what happens next is the question coming into focus.
Already, the Aircraft Carriers Alliance has cut its payroll, across the UK, from 10,000 to around 2,500.
This week's announcement of the UK government's shipbuilding strategy opens up the possibility of more work coming to the Fife yard.
Ministers want private shipbuilding companies to compete to build blocks of new frigates.
Even if it is successful in winning work, Rosyth is unlikely to see ships built again on this scale and at such expense.