'It still hurts every single day'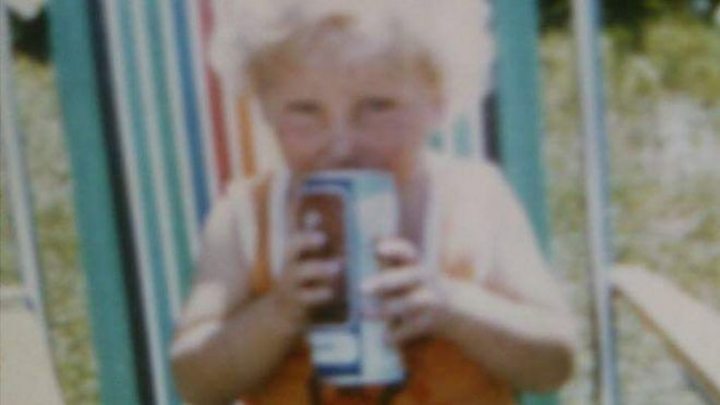 Donna Davidson and her brother Sandy were playing in her grandparents' garden in Irvine, Ayrshire, 41 years ago. That is the last time she saw him.
"I can't remember him," she says.
"I try, but I can't, and that hurts me."
She was just two at the time. Sandy was three.
He is one of the 732 people on Police Scotland's list of "long-term missing".
"We were in the garden playing with the dog and the dog got out of the garden," she says.
"Sandy followed the dog and I went after them as well. I returned back with the dog and Sandy has never been seen since.
"It has always been part of my life. It has always been there."
Ms Davidson says there were sightings of him at the time walking away holding a man's hand.
Six years ago a workman from what was then an adjoining building site contacted her after she made an appeal in a local newspaper.
Ms Davidson said: "He said he saw Sandy going away and holding a gentleman's hand but he didn't feel any cause for concern because he wasn't struggling and seemed quite happy.
"It has played in his mind all this time because he was probably the last person to see him alive. It has affected so many people."
The workman said he had reported it at the time, although Donna said she was not aware of this.
The police now have Ms Davidson's DNA to try to find a match between Sandy and profiles on the UK-wide DNA database but she says nothing has come up so far.
"I know it is a long time since Sandy went missing but it still hurts every single day," she said.
"The perfect scenario would be for him to turn up at the door. That would be a dream come true but I don't think that's going to happen. I don't think he's alive. But I do need closure. I need to find him."
---
'It is a living nightmare'
Iain Mowatt was reported missing from his home in Arbroath in August 2007.
The 36-year-old has not been traced and despite investigations and appeals he remains a missing person.
His friend Andrew MacLean says Ian was "really unwell" but his disappearance was "totally out of character".
"He had loving family, loving friends, people were out seeing him every day, there was nothing to say he would have just disappeared," he says.
Mr MacLean says: "It is a living nightmare. You go to bed every day thinking about him and you wake up thinking about him.
"I speak to his parents quite often and they are just waiting for a chap at the door.
"It is never ending. Hopefully one day he will walk down the path."
Anyone with information that could assist Police Scotland in tracing a missing person should call 101 or contact Crimestoppers on 0800 555 111.
Missing people in numbers
21,989 missing people were investigated by police in 2016/7
55% of investigations concerned someone who has been missing before
99% were traced alive
91 were traced deceased (87% of these were men)
12,283 (56%) of the missing were men
9,691 (44%) were women
13,615 were children, and 7,243 of these were classed as "looked after"
4,922 (22%) were people with mental health vulnerabilities
75% of people missing from hospital had mental health vulnerabilities
540 (2%) had dementia
9,000 (41%) were reported missing between 22:00 and 07:00
3,630 (17%) were reported missing on Saturday, only slightly more than other days
2,153 went missing in May - the spring and summer months seem to be higher than autumn and winter
3,911 (17.8%) of investigations were in Edinburgh - the largest number of any council
6 hours - 35.8% of investigations concluded within six hours
93% were concluded in three days and 99% of people return within two weeks
---