Cervical cancer screenings in Scotland fall short of target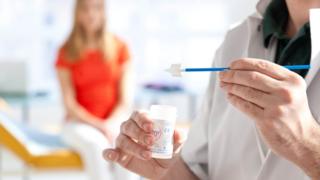 The number of women going to cervical screenings in Scotland has risen from last year's 10-year low, but is still falling short of a government target.
NHS figures show that as of 31 March, 73.4% of eligible women attended screenings compared to 69.2% in 2016 and 70.4% in 2015.
The Health Improvement Scotland target is for 80% to attend screenings.
The second phase of an NHS campaign to encourage more women to have a smear test is due to start in October.
Jo's Cervical Cancer Trust said it was "worried" one in four women were still not attending screenings.
National Statistics figures show that the highest uptake was among women aged 50-54 at 80.8%. However, just 63.1% of 25-29 year olds took up their invitation to screenings.
Shetland had the highest uptake of 80%, compared to Greater Glasgow and Clyde, which had the lowest at just 70%.
Robert Music, chief executive of Jo's Cervical Cancer Trust, said: "It is worrying that so many women are still not attending cervical screening when invited.
"There are many barriers to women attending screening including psychological, cultural, social and physical."
'Disappointing' uptake
Mr Music said it was "essential" the Scottish government and health bodies invested in ensuring women understood the role that screening plays in preventing cervical cancer.
Public Health Minister Aileen Campbell said the Scottish government should continue to invest in more accurate and accessible tests.
She said: "The incidence of cervical cancer has decreased by 40% between 1988 and 2013, far exceeding the 20% target set when the programme was introduced.
"Despite the success of the programme it is disappointing that uptake is below the Healthcare Improvement Scotland target of 80%.
"Earlier this year we launched a hard-hitting social marketing campaign to encourage more women to have their smear test, aimed particularly at younger women, where we know uptake is lower. The second phase of this campaign will begin next month.
"Last month we announced that women attending their smear test will also be checked for HPV, making the test more accurate with the potential for earlier, more effective treatment. This will be backed by investment from our Cancer Strategy."