New Sea Ceptor air defence missiles tested off Scottish coast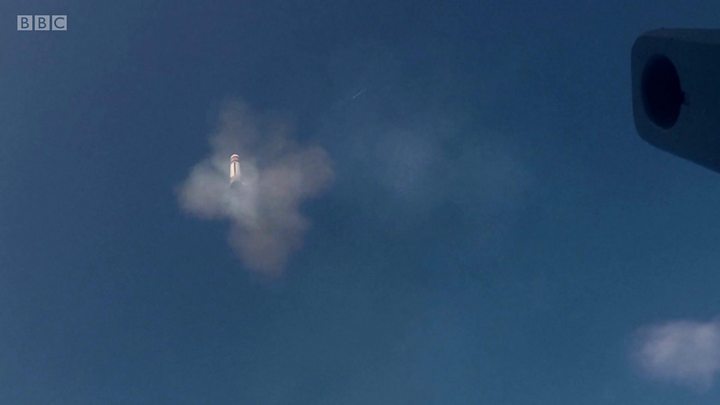 The Royal Navy's new air missile defence system has been successfully tested off the coast of Scotland, the MOD has announced.
The Sea Ceptor missiles were fired from HMS Argyll, a Type 23 frigate.
The weapons can intercept and destroy enemy missiles travelling at supersonic speeds and will form part of the protection for the Navy's new aircraft carriers.
The first trials took place in the Outer Hebrides range in July.
Sea Ceptor uses a missile capable of reaching speeds of up to Mach 3 - three times the speed of sound.
It will be able to deal with multiple targets at the same time, protecting an area of about 500 square miles (1,295 square km) over land or sea.
Harriett Baldwin, minister for defence procurement, announced the successful firings during a visit to defence company MBDA in Filton, Bristol.
"Sea Ceptor will protect our interests against threats both known and unknown," she said.
"It will launch from the Royal Navy's new Type 26 frigates as they keep our nuclear deterrent submarines and the UK's two new aircraft carriers safe on operations around the globe.
"Sea Ceptor supports 600 UK jobs and is yet another example of how our rising defence budget is being spent on cutting-edge kit to help our Armed Forces meet future threats."
Sea Ceptor is being fitted to replace the Sea Wolf system on the Type 23 frigates.
The air defence technology will be used on the new Type 26 frigates and in Land Ceptor, which will replace Rapier for the British Army.
It uses MBDA's "next-generation" modular missiles, as well as innovations in radar and datalink technology.
Commander Toby Shaughnessy, the Commanding Officer of HMS Argyll, described Sea Ceptor as an "exciting upgrade".
"Sea Ceptor is an impressive and innovative system, demonstrating that the Royal Navy is at the cutting edge of technology and working hard to keep Britain safe," he said.
"I am immensely proud of my ship's company and the work they put in to make this test firing possible."
HMS Argyll will conduct further firing trials of the Sea Ceptor's system before it deploys to Japan next year.