Scottish Youth Football Association tightens coach checks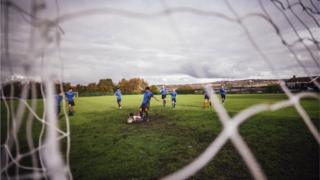 Youth football coaches will need background checks to be completed before they can work with children, the sport's governing body has told MSPs.
The Scottish Youth Football Association (SYFA) has begun phasing in changes to its system of disclosure clearance.
Currently, coaches can be granted "provisional membership" while checks are being carried out, but this will be axed from April 2018.
The body was criticised over its child protection procedures last year.
Holyrood's health and sport committee had also accused football bosses of being "asleep on the job" over the issue.
In December 2016, BBC Scotland revealed that thousands of coaches were working in youth football in Scotland without full background checks.
It emerged that of the 15,385 coaches registered with SYFA, 2,500 had not had Protecting Vulnerable Groups (PVG) clearance.
The PVG checks are carried out by Disclosure Scotland which searches databases, including criminal records.
Following the revelations, the SYFA announced "significant" plans to tighten up procedures.
Chairman John McCrimmond told MSPs that the "provisional membership" system would be scrapped from April 2018.
A time-lag system which meant coaches had to undergo checks within three months of joining a club was scrapped as of 21 August.
He said: "As of the 21st of August, they are not allowed to work with children until we have received the forms in that they're now in the PVG process.
"At that point they become a provisional member, which allows them to work with the kids providing they're working with and supervised by a PVG holder.
"From the 1st of April 2018 we'll be removing that provisional membership, and it'll become the situation that they will not be allowed to work with kids until such a time as we've completed the PVG process on that individual."
'Very simple'
MSPs queried why changes could not be put in place immediately.
Mr McCrimmond said: "For us to get to where we want to be, we have to make sure we have the infrastructure in place to deliver that. That's why we're doing this in stages.
"Stage one is to remove the three months, which we've carried out, and then in April, for season 18-19, we'll move directly to having the PVG forms back before allowing membership."
He said "significant resources" would be invested to "significantly update our IT processes and records", and said the group would work "far more closely" with Disclosure Scotland.
SFA chief executive Stewart Regan said the new system was "black and white, very clear, very simple".
Mr McCrimmond said all SYFA members would have to do online child protection training, although both he and director of finance Duncan Mayze conceded they had not yet completed the current course. Mr Mayze said those in leadership positions should "set an example".
Disclosure Scotland chief executive Lorna Gibbs later told MSPs that the SYFA was "on a journey to a better place".