Cancer charity calls for action on junk food multi-buys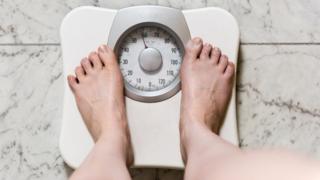 A leading cancer charity has called on the Scottish government to restrict supermarket multi-buy offers on unhealthy food.
Cancer Research UK said stores frequently promoted items high in sugar, salt or fat, and said obesity was linked to 13 different cancers.
It called for urgent action when ministers publish their obesity strategy in late 2017.
The government insisted tackling obesity was a top priority.
Polling for the charity suggested 71% of parents believe too much junk food is on promotion in supermarkets, with 89% of parents believing that promotions influence what they buy.
It said action on unhealthy food could make it easier for people to make healthier choices.
Growing waistlines
Linda Bauld, Professor of Health Policy at Stirling University, said: "These offers are persuading parents to ignore their shopping lists and buy cheap unhealthy food in large quantities.
"And if that junk food sits in our kitchen cupboards, we're tempted to keep reaching for it, even if it's been bought as a treat.
"The consequence of this fatty and sugary food can be seen on growing waistlines across Scotland."
The Survation poll questioned 1,037 Scottish adults in June 2017 on their attitudes towards purchasing junk food.
Almost six in 10 (57%) parents said promotions lead them to buy more junk food than they really want, with 75% of parents wanting to see that balance shifted towards healthier items.
The polling was commissioned by Cancer Research UK to explore some of the possible reasons why Scotland is in the grip of an obesity epidemic.
'Daily struggle'
Lorraine Tulloch from the medical pressure group Obesity Action Scotland said as 65% of Scots are overweight or obese, action to improve our diets is urgently needed.
She said: "Parents are facing a daily struggle in ensuring families eat healthily because price promotions are resulting in them buying more junk food than they intended.
"We are calling for Scottish government to tackle these price promotions in their forthcoming diet and obesity strategy. This survey indicates that parents would support such action."
A government spokesman said tackling obesity was a top priority and ministers will consult on the new diet and obesity strategy this year.
"We are absolutely committed to reducing the deeply ingrained health inequalities which persist in Scotland and it is important we take the time to get our approach right, taking into account the views of a wide range of stakeholders," said the spokesman.
"We continue to engage with the food and drink industry on action to offer healthier choices, including rebalancing promotions and reducing added sugar.
"We recognise the need to shift the emphasis from dealing with the consequences of a poor diet to tackling the underlying causes, which is why we have consistently called on the UK government to ban junk food advertising before the 9pm watershed, a move we believe would greatly reduce children's exposure to the marketing of unhealthy food and drink."