Could reverse vending cut plastic bottle waste?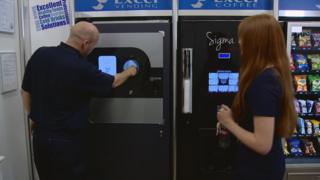 Detailed work is expected to begin this month on how a "deposit-return" scheme for bottles and cans might work in Scotland.
One of the radical schemes likely to be considered is "reverse vending", where the empty plastic bottles are fed into a network of machines in shops and supermarkets.
The system has operated for decades in many Scandinavian countries where recycling rates are about double our own.
The machines are being demonstrated at a warehouse in East Kilbride.
The way in which we have been encouraged to recycle has changed over the years from bottle banks in the earlier days to kerbside collection.
But still less than half of our household waste is recycled and rates have plateau-ed. Our drive to do it is based on little more than our conscience.
The principle of "deposit-return" is to create an additional incentive where consumers pay a surcharge on drinks bottles, and maybe cans, which is refunded when the bottle is returned.
Demonstrating his machine to me, John MacDonald from Excel Vending said: "It has a 360 degree recognition system so it will pick up the barcode, the material of the bottle and it will pick up the size and dimensions.
"You would just put the bottle in. The bottle is crushed, compacted and then dropped into a bag at the bottom and this will allow it to be collected."
The machine allows greater control of the quality of the recyclable product which prevents it becoming contaminated and destined for landfill.
But it is up to drinks firms to decide whether they will use the recycled plastics in their manufacturing.
Coca Cola has committed to using 50% recycled material in its bottles by 2020 but availability of recyclable plastic is limited.
The UK head of Coke, Jon Woods, said: "I think a deposit-return scheme or any other scheme, any other intervention, which creates more recycled plastic is only a good thing.
"It will effectively create that circle where I'm making a bottle of coke, I'm filling it with coke, I'm getting the bottle back, we're putting it into a reprocessor and they're giving us fresh plastic that we're putting back into new bottles."
Reverse-vending has operated in Sweden since 1984 where more than 90% of household waste is recycled. In Scotland that figures is about 44%.
Retail groups are split over whether the system should be introduced in Scotland. The Scottish Retail Consortium has described the proposal as "unnecessary, anachronistic, and expensive".
'No contamination'
But Paul Baxter from the Federation of Independent Retailers said: "There are some retailers who are concerned about the size and the footprint but as you've seen from the smallest unit that we can see, which is the size of a vending machine, it takes up very little space.
"There's no contamination, it's very clean, it's a very simple system to operate and as part of a solution to take the litter off the streets I think all responsible retailers will be overcome with how simple it is."
An estimated 15,000 machines are in operation in Norway, Sweden and Demark.
Swedish firm RVM Systems owns about 15% of machines in operation in Scandinavia.
Managing director Niklas Engström said: "Once there is a value to the beverage container, people would like to get that deposit money back.
"So that's really what's driving it and then there's also lots of environmental benefits like you don't have to use virgin materials to make new beverage containers.
"There's a big reduction in CO2 in the production process when you can just recycle material.
"To have a value to the beverage container is something that is understood by everyone.
"You have a certain percentage of the population who will probably recycle anyhow without getting a deposit back.
"But in order to reach all of the people in society I think it's very good to have a deposit."
A deposit return on glass bottles of Scotland's national soft drink, Irn Bru, ended just a couple of years ago.
It was said to be the end of an era but it could be on the verge of being revived.