Teenager charged over Scottish conductor's death in Argentina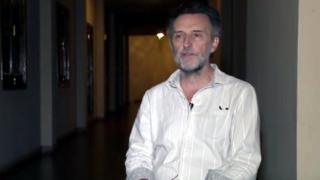 A teenager has been charged in connection with the death of a Scottish orchestra conductor in Argentina.
Violinist Finlay Ferguson, 60, was found dead in his apartment in the city of Cordoba on Thursday and police said his death was being treated as murder.
He was the director of the San Martin Theatre Youth Academic Orchestra.
Local reports said police had arrested and charged a 19-year-old man in connection with the death of Mr Ferguson.
The teenager is said to have been in possession of Mr Ferguson's mobile phone and computer at the time of his arrest.
Local media reported that the conductor was found naked in bed and had died from a blow to the head, thought to have been from a gym dumbbell.
'Great teacher'
The town's cultural agency cancelled performances for the weekend at the theatre where he worked and expressed their "deepest sympathy" for the "painful loss".
In a statement, the agency paid tribute to a "great teacher" and said he had taught dozens of violinists and other musicians who now perform in official orchestras across Argentina.
Mr Ferguson, from Glasgow, had lived in Argentina for 30 years.
He was a former gold-medal winning student at the Royal Scottish Academy of Music and Drama.