Gers figures: Scottish economy deficit cut to £13.3bn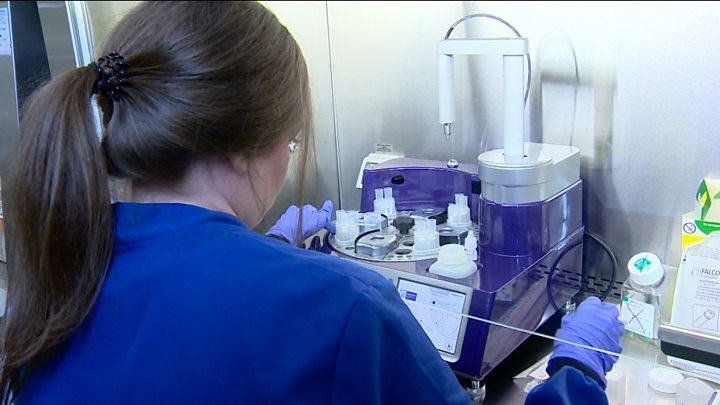 Scotland's public spending deficit has been cut to £13.3bn over the past year, according to official Scottish government statistics.
The Government Expenditure and Revenue Scotland (Gers) report said the figure represented an 8.3% share of Scotland's GDP - triple the UK figure of 2.4%.
Last year's figures said Scotland spent £14.8bn more than it raised in taxes, which has now been revised to £14.5bn.
The UK's overall deficit has dropped from £121bn in 2012/13 to £46bn now.
Scotland had a relatively stronger fiscal position than the UK in 2010/11, but since then the position has been reversed - largely as a result of the collapse in the oil price.
Economists at Strathclyde University's respected Fraser of Allander institute said the gap of six percentage points between the Scottish and UK deficits was the largest since the annual Gers figures were published on a consistent basis nearly 20 years ago.
Gers was described as the "authoritative publication on Scotland's public finances" in the Scottish government's White Paper on independence ahead of the 2014 referendum, and has been a key battleground in the constitutional debate.
The latest figures estimated that Scotland raised a total of £58bn in the past financial year - the equivalent of 8% of total UK revenue.
Of this, only £208m was revenue from the North Sea oil and gas industry - an increase from the £56m recorded in 2015/16 but far lower than it had been before the oil price crash, with revenues standing at nearly £8bn in 2011/12.
However, non-North Sea revenue increased from £54.5bn in 2015/16 to £57.8bn.
The figures also said that taxpayers in Scotland raise about £300 less on average than those in the UK as a whole, at about £10,700 per person.
Public spending is also higher in Scotland, according to the figures, with total expenditure by the Scottish government, UK government and other public bodies in Scotland estimated at £71.2bn - 9.2% of total UK public sector expenditure.
This was equivalent to £13,175 per person, which was £1,437 per person greater than the UK average and nearly £200 per person more than in 2015/16.
---
Analysis: A question of interpretation
By BBC Scotland business and economy editor Douglas Fraser
Like one of those railway or airport departure boards that shoogles furiously and comes to rest on the latest update, so Gers has come round again. And it's not clear the dials have changed all that much.
Take your pick of interpretations.
Either this shows that Scotland, if it were independent, would be running a huge, unsustainable deficit - forcing the government at first to borrow heavily, and then to cut spending and/or raise taxes.
Scottish Tories describe the gap as "the union dividend". But remember this is not a transfer of funds from taxpayers elsewhere in the UK. It's a loan from the bond markets, also known as future taxpayers.
The UK deficit is in the safe and sustainable zone, below 3%, but it's still a deficit. The alarming figure is that Scotland's £13.3bn deficit accounts for almost 30% of the UK one.
Alternatively, this shows what you get from being inside the UK, with relatively low tax take. From that pro-independence perspective, it is not a measure of how Scotland would fare, but how it has fared without power at Holyrood.
---
Scotland's public spending
2016-2017
£23.7bn Social protection

£12.6bn Health

£8.1bn Education

£2.7bn Policing
SPL
Prior to the 2014 referendum, the Scottish government's White Paper estimated a much lower deficit and significantly higher oil and gas revenue in 2016/17, which would have been the first year of independence after a Yes vote.
First Minister Nicola Sturgeon said she did not accept "in any way, shape or form" that the prospectus for leaving the UK had misled voters, pointing out that "nobody foresaw the decline in the oil price".
Ms Sturgeon insisted that Scotland's economy remained strong, with growth nearly four times faster than the UK in the last quarter and the number of people in employment at a record high.
She added: "These figures reflect Scotland's finances under current constitutional arrangements.
"However, they show that our investment in key industries, such as the life-science sector, is providing a real boost to our onshore economy. By continuing to invest in key sectors, we will ensure Scotland remains a productive and competitive country."
'Cause for concern'
The first minister said it was "encouraging" to see an improvement in the overall fiscal balance and that onshore revenues grew at their fastest rate in nearly 20 years.
But she repeated her warnings that the country's long-term economic success was being threatened by Brexit.
The UK government's Scottish secretary, David Mundell, said the Scottish government figures were a "cause for concern" and showed there was still much to be done to improve Scotland's economy.
He added: "They also highlight the value of pooling and sharing resources around the UK. Being part of a strong UK has protected our living standards, and that's one reason the people of Scotland clearly rejected Nicola Sturgeon's plan for a second independence referendum at the election.
"Scotland's deficit is falling at a slower rate than the UK as a whole and economic growth is lagging behind. It is vital we grow the economy and we want to work with the Scottish government to achieve that."
What's the difference in revenue generated by Scotland per person?
Year
Excluding North Sea Oil £
Including North Sea Oil £
1998-99
-189
+78
1999-00
-268
+93
2000-01
-272
+412
2001-02
-194
+496
2002-03
-287
+416
2003-04
-256
+341
2004-05
-289
+511
2005-06
-241
+1,121
2006-07
-309
+759
2007-08
-270
+1,049
2008-09
-167
+1,361
2009-10
-237
+763
2010-11
-292
+1048
2011-12
-309
+1,029
2012-13
-268
+511
2013-14
-281
+295
2014-15
-302
-71
2015-16
-333
-321
2016-17
-349
-312
GERS 2016-17: Extracts from Table 1.3. The numbers listed refer to the difference compared with the rest of the UK.
---
What has been the reaction to the figures?
Scottish Labour leader Kezia Dugdale said the figures covered what would have been the first year of independence if Yes had won the referendum in 2014. Claiming that the figures proved that the SNP had sold "false hope to the poorest people in Scotland" during the referendum campaign, she added: "Scotland's own accounts show that the first year of an independent Scotland would have meant unprecedented levels of austerity."
Scottish Greens co-convener Patrick Harvie said: "Every year these figures set off a tiresome war of words between those who think Scotland could never run its own affairs and those who think the SNP approach is flawless. What these figures really show is that Scotland needs to build a clean economy that does not rely on oil and gas."
Scottish Liberal Democrats leader Willie Rennie called on the Scottish government to explain why oil revenue estimates in its White Paper on independence were "so hopelessly wrong". He said: "Oil revenues have tanked since 2014. The SNP relied on the 2014 figures for their independence campaign. People need to know why they got it so wrong to make sure the same mistakes can't happen again."