Police officer 'embedded' in prison
By Lucy Adams
BBC Scotland correspondent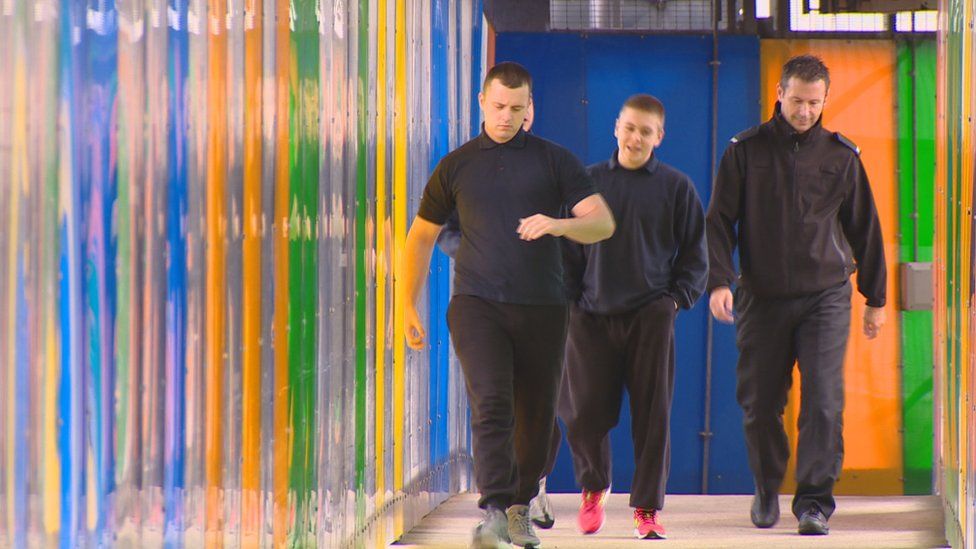 A police officer has been "embedded" in a Scottish prison in an effort to win the trust of Scotland's youngest violent inmates and gang members.
The pilot scheme tries to get young offenders to consider the impact of their past actions in a bid to turn them away from serious organised crime.
More than 200 young men have gone through the scheme at Polmont Young Offenders' Institution, near Falkirk.
BBC Scotland has learned the scheme is set to be rolled out to other jails.
A Freedom of Information request established that Police Scotland and the Scottish Prison Service hope the initiative could benefit inmates across the country.
The programme is due to start in Low Moss prison in East Dunbartonshire and HMP Grampian shortly.
The course is already under way for women held at Polmont.
The pilot, which is backed by the Scottish government's Serious Organised Crime unit, involves a police officer working full-time inside the prison to earn the trust of inmates.
His role is said to be "educational" rather than a traditional policing role.
Hugh is serving a six-and-a-half year sentence in Polmont after being convicted of assault causing severe injury. He is just 20 years old.
When presented with the option of going on a course with a police officer, he says: "I was wary at first but actually he's a good guy."
Hugh says he was "chucked" out of school aged 14 and then spent all of his time out with his "pals".
"I was always getting mad with it," he says.
"Out with my pals, getting full of it. I was full of Valium and drink - battering [people] for no reason. I was gang-fighting. Stuff like that. [I would carry] anything machetes, swords, knives and bottles. I wasn't thinking. The boys I was fighting would have the same."
He says if he hadn't been imprisoned he would have just carried on and would probably have a received a "much higher sentence" for something worse.
"I ended up stabbing a guy and getting six and a half years for it," he says. "Now I have had time to think. It hit me."
He says the course made him consider the impact of his actions because of the photographs of knife crime victims. And he says he now wants to use the remainder of his sentence to "better himself".
Once he gets out he wants to become a joiner and says: "I'm done, I'm not fighting."
Police have been used in one or two prisons in the past, but in an enforcement or intelligence-gathering position.
Sgt Hamish Maclean, who runs the pilot in Polmont, says the course is offered to everyone - not just those convicted of certain offences - because they realised it would benefit all prisoners.
He said some young people do not realise that what they are involved in constitutes organised crime.
Sgt Maclean said part of his role was "raising awareness" of what serious organised crime was and how it affected people and communities.
The programme covers awareness-raising on domestic abuse, knife crime and violence, as well as how to avoid being exploited by organised crime gangs.
The police officer said the young men might be attracted to organised crime by the promise of a flash car and other expensive items.
He said they never considered the work done by the police to disrupt crime gangs or the possibility of violence against them from other gangs.
"They almost never see the effects that it has on communities," Sgt Maclean said.
The support continues after inmates are released.
"Very often when people leave prison their contact with the police can be quite toxic," Sgt Maclean said.
The scheme hopes to break down barriers between police and young people by offering support through third sector organisations.
Tommy Steele, of the community safety unit in Polmont YOI, says that traditionally police officers worked outside jails and that the prison staff had been reticent about the proposal at first.
He said: "When the officer came we still had our views on it but quite quickly it worked, which was not only surprising but very beneficial.
"It's all earmarked to giving the boys information that they need to stop them reoffending when they go back out into the community.
"As far as we know, this is a first for Britain.
"A lot of schools in the country have campus cops so it was kind of based on that idea, but we have a lot more intervention through the police and the prison service."