Scotland's population: Dementia deaths double in a decade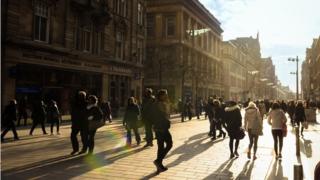 The number of Scots dying from Alzheimer's and dementia has more than doubled to 5,571 since the year 2000, according to the latest figures.
The National Records of Scotland (NRS) said the conditions had now overtaken circulatory diseases such as stroke as a leading cause of death among Scots.
The figures were contained among data showing Scotland now has a record population of 5.4 million people.
Statisticians said the rise was mainly due to immigration.
Tim Ellis, the registrar general of Scotland, said that about 32,000 more people came to Scotland than left between 2015 and 2016.
'Greatest increases'
Of these, 23,000 people were from overseas and 9,000 people were from the rest of the UK.
More than half of those who came to Scotland were aged between 18 and 32 years old.
Cancer remained the biggest killer among Scots and has risen by 6% between 2000 and 2016. There were 15,901 deaths as a result of cancer last year
Scotland population data 2016
5.4 million
Scotland's population
15,901 Deaths from cancer

5,571 Deaths from Alzheimer's and dementia

28% Expected increase in number of pensioners by 2040

1% Expected increase in working age population by 2040
getty images
Mr Ellis said the figures on dementia and Alzheimer's were partly explained by the fact that Scots were living longer.
He said the impact of Scotland's ageing population was clear: "Scotland's population has continued to age over the past decade, with the greatest increases in the population in the older age groups.
"Over the next 25 years, there is a projected increase of 28% in the number of pensioners in Scotland, compared to an increase of just 1% in the number of people of working age.
"This has implications for funding allocations, tax revenues, pensions, education, health and social care provision."
In 2016 there were 56,728 deaths registered in Scotland, 1.5% fewer than in 2015.
On life expectancy, Scotland continues to languish behind other nations in Western Europe, as well as those in the UK.
The figures show:
The highest life expectancy for males in Scotland is for East Dunbartonshire, with those born in 2014 expected to live for 80.5 years.
This is 7.1 years higher than Glasgow City, which has the lowest life expectancy for males at 73.4 years.
For females, East Dunbartonshire also has the highest life expectancy at 83.5 years
That figures is 4.8 years more than West Dunbartonshire, which has the lowest council area life expectancy in Scotland at just 78.7 years.
The report also includes new data about births registered in Scotland in 2016.
It shows that 54,488 births were registered in Scotland in 2016, 1.1% fewer births than in 2015 and the lowest annual total since 2005.
The average age of first-time mothers increased to 30.3 compared with 26.0 in 1975. The average age of first-time fathers also increased from 28.4 in 1975 to 32.9 in 2016.