New appeal over Scottish teenager killed in Germany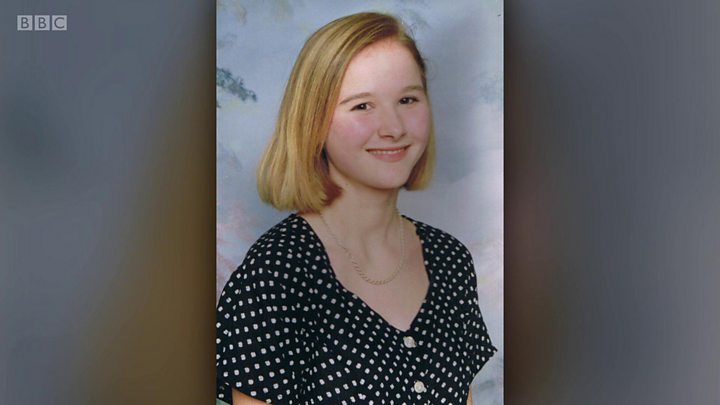 Army investigators have launched a fresh appeal for information over the murder of a Scottish teenager in Germany 24 years ago.
Christina Menzies was found strangled near RAF Gutersloh - where her father worked - in 1993.
The Royal Military Police (RMP) say RAF personnel who have now returned to the UK may hold the key to her death.
An RMP investigator appeared on BBC One's Crimewatch on Tuesday to highlight the case.
A serving soldier was tried for the teenager's murder at court martial in 1994 and acquitted.
Christina's father John Menzies has described his daughter - who would have been 40 this year - as generous and kind.
On 13 June 1993 she had attended an Army summer show and then gone on to a disco held on the RAF base in north-west Germany, called Club 47.
At 23:30 her parents went to meet her at the disco, but she returned inside for the final half hour before it finished at midnight, with their agreement.
The last sighting of Christina was of her leaving the back of the club.
Later that afternoon, her body was found in undergrowth eight miles (13km) from the base. She had been strangled.
The Royal Military Police said her shoes were missing and there was forensic evidence from the time that her body had been wrapped in a Union Jack quilt which could be bought on the base.
That evidence is now being re-examined using modern technology, but the RMP also said that potential witnesses from the time - who may now have finished their military service and returned to the UK - could hold the key to who murdered Christina.
Christina's father has made a fresh appeal on Facebook in an attempt to find out who murdered his daughter.
An Army spokesman said: "The RMP are appealing for any information that could assist in identifying the killer of 16 year old Christina Menzies who was murdered on 13 of June 1993 after visiting Club 47, located on the RAF Gutersloh Station in Germany.
"In particular they are keen to hear from anyone who was present at Club 47 on the night in question who haven't been spoken to by the Military Police before, or who can provide information as to Christina's whereabouts between leaving Club 47 about midnight 12 June 1993 and the discovery of her body at 16:45 on Sunday 13 June 1993.
"The RMP are also seeking information about Christina's shoes which were missing when her body was discovered, and a Union Jack quilt which may have been used to cover the body."