EastEnders villain joins River City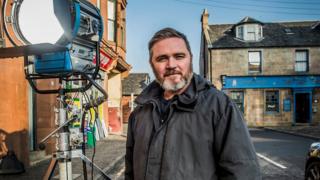 Scottish actor Alex Ferns, who played one of EastEnders' most memorable villains, has joined the cast of BBC Scotland's weekly drama River City.
Ferns played Trevor Morgan in the London soap from 2000 to 2002 and was at the centre of a harrowing domestic violence storyline.
He will take on the character of menacing criminal Rick Harper in the Shieldinch show.
The actor said Rick was going "to bring some heat" to the programme.
"He's old school, definitely not afraid of anybody in any sense," he said.
"I think he's going to be quite charming and funny but he can turn violent if he has to. Obviously, I'm nothing like that."
Villain of the Year
Ferns, who was born in Lennoxtown in East Dunbartonshire but grew up mainly in South Africa, won "Villain of the Year" at the British Soap Awards in 2002 after the EastEnders storyline involving his wife Mo Slater [Kacey Ainsworth].
On his return to Scotland, he said: "I always feel better when I come back, more at home.
"It's going to be great working on a show that's Scottish, made for Scotland. The River City set is incredible and everyone here seems really friendly. I'm a bit like the new boy which is to be expected really."
Another new face to join River City is Glasgow actor Iain Robertson who takes on the role of Stevie Adams, the wayward eldest son of Scarlett.
Stevie was last seen in 2005 when he was sent to jail.
He will make his debut in May and Ferns should be seen at the end of March.