Former Labour MP Tam Dalyell dies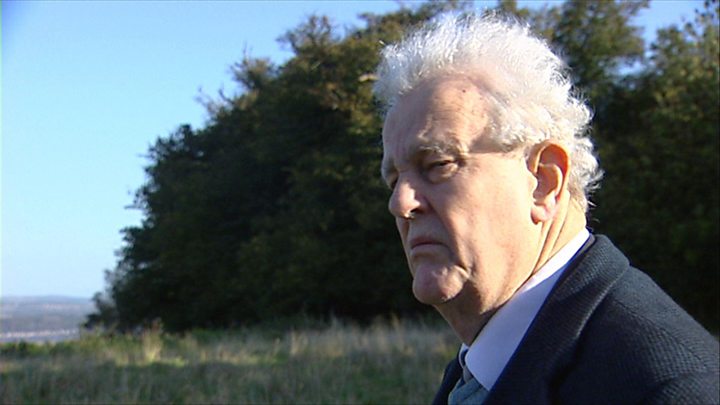 The former MP Tam Dalyell has died at the age of 84 after a short illness.
He sat in the House of Commons from 1962 to 2005, representing West Lothian and Linlithgow for Labour.
Mr Dalyell became known for his formulation of the "West Lothian Question" about the role of Scottish MPs after the establishment of the Scottish parliament.
His family said in a tribute that he had made an enormous contribution and "devoted his life" to public service.
They said: "The family of Tam Dalyell are sorry to announce his death earlier today at the age of 84, after a short illness.
"Tam Dalyell devoted his life to public service in Scotland, in the UK, and beyond. He made an enormous contribution in many spheres.
"He will be much missed both publicly, and more importantly personally, by his family and many friends."
Mr Dalyell persistently questioned Prime Minister Margaret Thatcher over the sinking of the General Belgrano during the Falklands War.
He challenged her over the sinking of the warship during the conflict between Britain and Argentina - with the loss of more than 300 lives - and whether it had been necessary.
Labour leader Jeremy Corbyn said Mr Dalyell had been a "good friend and comrade".
"Tam was a titan of parliamentary scrutiny, fearless in pursuit of the truth. From Iraq to the miners' strike, he doggedly fought to expose official wrongdoing and cover-ups," he said.
"The title of his autobiography summed Tam up to a tee: 'The Importance of Being Awkward.'
"But he was much more than that: Tam was an outstanding parliamentarian, a socialist and internationalist, and a champion of the underdog, here and abroad."
Former Prime Minister Gordon Brown said: "For four decades, Tam Dalyell was one of the truly great characters of Scottish political life.
"He was widely respected and admired for his insight, his integrity and his eloquence.
"My thoughts are with his family."
Scottish Labour leader Kezia Dugdale said: "The Labour movement has lost a giant. Tam Dalyell was one of the most influential MPs, writers and thinkers of his generation.
"Tam served the people of West Lothian tirelessly for decades through periods of great change. He truly was their champion. As Father of the House his wisdom was passed on to countless MPs, serving as a parliamentarian while Britain had eight Prime Ministers.
She added: "A man of peace and a man of principle, his legacy will live on in the Commons for decades to come.
"Our thoughts are with his family and many friends at this time."
First Minister Nicola Sturgeon described Mr Dalyell as "a real giant of Scottish politics" and said he would be "fondly remembered by his countless friends right across the political spectrum".
She added: "With a long career of asking awkward but vital questions of successive governments, he will rightly be remembered as a tenacious and principled campaigner on a range of issues about which he felt passionately.
"It is a rare gift for a politician of such independent mind to be held in such high esteem by his political allies and opponents alike."
Scottish Conservative leader Ruth Davidson added: "Tam Dalyell will be remembered as one of this country's greatest ever campaigning MPs.
"Throughout his long career, he championed a countless array of causes, giving voice to people who otherwise would not have been heard.
"He was unique - thoughtful, gracious, decent and utterly tenacious. All political parties today will mourn his loss while celebrating a great political life."
Scottish Liberal Democrat leader Willie Rennie said: "Tam Dalyell was one of those huge political characters who will leave an even bigger impression on public life well beyond his life."
'Commanded respect'
Speaking on BBC Radio Scotland, former Labour MP Dennis Canavan said: "I think that Tam will go down as a brilliant parliamentarian.
"He saw the job of a parliamentarian as being, first and foremost, representative of people and making the government accountable to the people through parliament.
"We need more people of the calibre of Tam Dalyell in both the House of Commons, and in the Scottish Parliament."
Former Liberal Party leader David Steele, who also served as Holyrood's first presiding officer, told the Good Morning Scotland programme that he and Mr Dalyell were always friendly despite their political differences.
"When he came down for my 50th anniversary celebrations last year, he told me that he had refused to campaign against me in the by-election in 1965.
"He had never told me that during all the years we served together in the Commons, and that was typical of the man."
MSP Fiona Hyslop, who represents Linligthgow for the SNP, said: "I am so sorry to hear of the passing of Tam Dalyell - a remarkable political force whose sharp intellect and tenacity commanded respect both nationally and in his former West Lothian constituency.
"While his politics were anti-establishment, he was truly an institution in Scottish politics."
She added: "Tam Dalyell will be sorely missed by all who knew him and my thoughts are with Kathleen and his family at this sad time."