Tourist fears over The Gambia unrest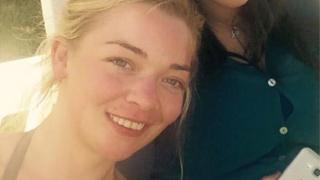 A Scottish tourist has spoken of her anxiety about being stuck in The Gambia amid fears of unrest in the country.
Arlene Robertson from Glasgow arrived in The Gambia for a two-week holiday on Tuesday and is currently holed up in a hotel with one other British tourist.
She described the situation as "horrible" and said she was concerned for her safety.
Holidaymakers are being evacuated after The Gambian President refused to leave office despite military threats.
The Foreign Office has advised against all travel to the capital Banjul and against all but essential travel to the rest of the West African country.
The first flights carrying British tourists arrived back in the UK on Wednesday.
Thomas Cook will run 11 flights, including nine extra departures, to evacuate people over the next two days.
What is happening in The Gambia?
The president of the Gambia, Yahya Jemmeh, is refusing to step down after losing the country's election last month.
Adama Barrow, who beat him, was due to be inaugurated on Thursday. But Mr Jammeh claimed there had been "extraordinary" foreign interference in the election and has now missed the deadline to remove himself.
This has led to growing political unrest in the country.
Senegal has moved troops towards the Gambian border in an effort to force Mr Jammeh to accept electoral defeat and step down.
The threat of military action is supported by Nigeria and other states in the region.
At least 26,000 Gambians have sought refuge in Senegal this week amid fears that violence could erupt.
Mr Jammeh has ruled The Gambia since taking power in a coup in 1994.
The tour operator said it had brought back 1,038 customers from The Gambia on Wednesday.
Ms Robertson was due to return to Scotland on the 24 January. However, since her arrival on Tuesday on a flight-only deal, she said she had been relying on her family back in Scotland for information.
She told the BBC's Good Morning Scotland programme there were few people left in her hotel and staff were not showing up for work.
She said: "I'm still quite unclear. For the last few days I've been trying to phone Thomas Cook and I've not really got anywhere to be honest, they haven't contacted me.
"They've been in contact with everyone that booked a package holiday, but because mine is flight-only...I've spoken to some other people that are in the same position as me and we just don't know basically.
"There are a group of Polish people who are leaving now and other than that, there's me and one other English person...So, basically there's going to be two of us in the hotel."
She said provisions at the hotel were disappearing fast. "They have no milk left, they have no breakfast. I've got a black coffee and most of the staff have left as well. Some have family and they've gone to Senegal already.
"I want to stay because it's beautiful, but the atmosphere and the current situation is horrible.
"At least I would have liked to enjoy my holiday, but I can't stay, there's too much uncertainty and I'm concerned about my family worrying about me and about my own safety as well."
'Everybody out'
The 33-year-old has been confirmed on a Thomas Cook flight out of the country on Friday, but is unsure exactly how she will get to the airport.
She said the streets outside her hotel were deserted and that she had been given taxi numbers to try.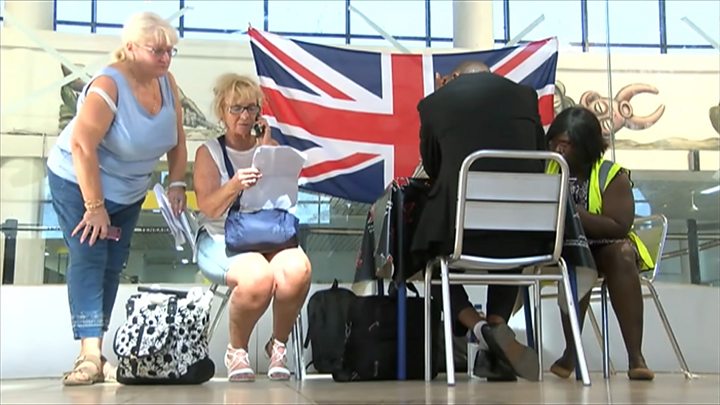 She added: "I don't have any options at the moment. There's basically nothing. I've been told this morning that I've been confirmed on a flight tomorrow at ten past four, but then other people have been saying 'no, you need to get out today'.
Steve Nichol from Edinburgh is at a resort about 30 miles south of the capital Banjul.
He told BBC Radio Five Live: "There's no sign of any trouble, but I don't think anybody knows what's going to happen. We can see stuff on the news, but nobody knows what's going to happen."
He is also booked on a flight out of the country on Friday. He added: "Thomas Cook have decided that they're going to get everybody out and therefore they won't be running any flights between something like the 20th and 31st either to or from Gambia.
"Gambia is a small country and if we get stuck at the airport we'll probably be fine because there will be plenty of people and there's plenty empty hotels just now."
Thomas Cook is offering free amendments or cancellations for holidays to The Gambia up to and including 31 January.