Lord Advocate wants 'significant reform' of Scots justice system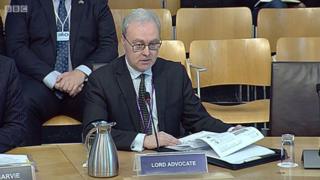 Scotland's Lord Advocate has said "significant reform" is ongoing after MSPs raised "serious concerns" about the country's justice system.
Holyrood's justice committee has been holding an inquiry into the role and funding of the Crown Office.
Members put issues raised by previous witnesses about resources and victim support to James Wolffe QC.
He said ongoing reviews suggested a "need to do criminal justice in really quite a different way".
However, he insisted that the service has "come a remarkable distance" in recent years, adding: "I have absolute trust and confidence in those who prosecute on my behalf up and down the country."
The committee has taken evidence from Crown Office and Procurator Fiscal Service (COPFS) employees and unions, victims' groups, lawyers and the police so far, across a five-month inquiry.
Committee convener Margaret Mitchell said the probe had "unearthed some serious concerns".
She said: "From the amount of time wasted through trials not proceeding on schedule, to the workload of prosecutors and the support offered to the victims and witnesses who appear at court.
"The justice committee will publish its conclusions in due course, but we hope that the Lord Advocate will have listened to the legitimate concerns raised so far."
Conservative justice spokesman Douglas Ross pressed the Lord Advocate on whether there would be "an overhaul of the justice system" in light of concerns raised.
Mr Wolffe said he acknowledged the challenges COPFS faces, saying "significant reform" was ongoing, with a process review suggesting "the need to do criminal justice in really quite a different way".
Crown Agent David Harvie, the professional head of the service, said there was a "very strong argument for system change" within the justice system, and "a need and an opportunity for transformational change".
Staff surveys have noted that 40% of Crown Office staff don't wish to stay in the service in the long term - although Mr Wolffe argued that this is "considerably higher" than the average in the civil service, saying things were moving in the right direction.
He also argued that there should be no lack of confidence in the fundamental work of COPFS, with a conviction rate of 80% in cases prosecuted.
Mr Harvie said the "vast majority" of individuals were provided with a good service, although he said he "accepts and regrets" that some had been failed.
In response to further questions about staff issues, Mr Wolffe said "we are not complacent about it", but added that "there is encouragement to be taken" from staff surveys.
He said the service had "come a remarkable distance" in his lifetime, from a position where the criminal justice system paid no regard to the needs of witnesses.
'Fundamental problem'
The Lord Advocate highlighted communication and support for victims and vulnerable witnesses as a particular area of focus for ongoing improvements, with ambition to deal with evidence from children and vulnerable people in a different way.
Ms Mitchell said there was a "fundamental problem" over communications with victims of sexual assault in particular, with Mr Harvie agreeing this was an issue worthy of "significant reflection" and further work.
Under the current budget draft, the Crown Office budget is maintained in cash terms, which equates to a real-terms cut.
Mr Harvie told members that £1.5m of savings had been targeted, with half of the sum coming from staff costs.
He said "probably around 30" jobs would be cut, by not replacing staff who leave or retire.
The other half of the savings will come from areas like expert witness costs and pathology, although Mr Harvie conceded there was a "risk" that some could also come from staffing - albeit "not a significant risk".
Mr Wolffe previously appeared at Holyrood to give evidence about the draft budget, at which point he argued the Crown Office had adequate resources to fulfil its role.