Scotland produces 'greener electricity', says WWF Scotland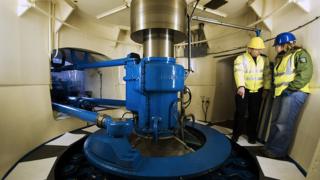 Power generated in Scotland has a significantly smaller impact on climate change when compared with the UK average, a conservation body claims.
WWF Scotland said its analysis showed that in 2014, the climate change impact of generating a unit of electricity in Scotland was 196g of CO2 per kWH.
This compared with 400g of CO2 per kWH in the rest of the UK, it said.
The organisation analysed the most recent Scottish government figures on energy production.
According to WWF Scotland, the data also showed the climate change impact of electricity production in Scotland dropped by 38% between 2010 and 2014, while the UK saw a reduction of 12% over the same period.
The conservation body's climate and energy policy officer Fabrice Leveque said: "Thanks to the Scottish government's leadership on renewables policy, the climate change impact of producing electricity in Scotland has fallen rapidly and is now half that of the whole of the UK.
"The transformation in the way we produce our power is helping Scotland harness the many economic and social benefits of shifting to a zero-carbon future."
But Mr Leveque added that electricity accounted for just one quarter of our energy use and said the Scottish government "must build on progress" to meet future climate targets.