Churches to live stream Christmas services during storm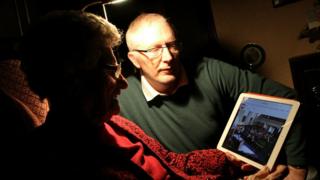 Church-goers are being invited to attend "virtual services" on Christmas Day rather than put themselves at risk in stormy weather.
Ministers have suggested worshippers watch a service online if they are unable to attend church.
It came as forecasters warned that Scotland could be hit by strong winds on Sunday, with gusts of up to 70mph.
The Church of Scotland said more churches than ever were live-streaming services.
And they said the online broadcasts were ensuring services reached a record audience.
Falkirk Trinity Church began broadcasting its services online a couple of years ago.
Christmas atmosphere
Its minister, the Rev Robert Allan, said it was often used by members of the congregation who were recuperating from illness at home or in hospital.
Regulars who were on holiday, as well as local people who had moved away from the area have also joined the service online.
And he agreed that it would be "ideal" for older people who did not want to brave the weather on Christmas morning.
But added: "You can't stop some people braving it. Everyone makes their own choices.
"If anyone's unsure, don't take any chances in this kind of weather.
"If they have an internet connection - or a neighbour, or friend, or family member - then they are certainly welcome to join us online and hopefully they'll still get a bit of the Christmas atmosphere."
Other churches, like Banchory West Parish Church, will upload recordings of their services once they are finished.