Your most-read Scottish stories of 2016
The BBC Scotland news website has looked back at our most-read stories of 2016. Here is the top 15, with the ranking based on the number of page views:
---
1. Will Holyrood block Brexit?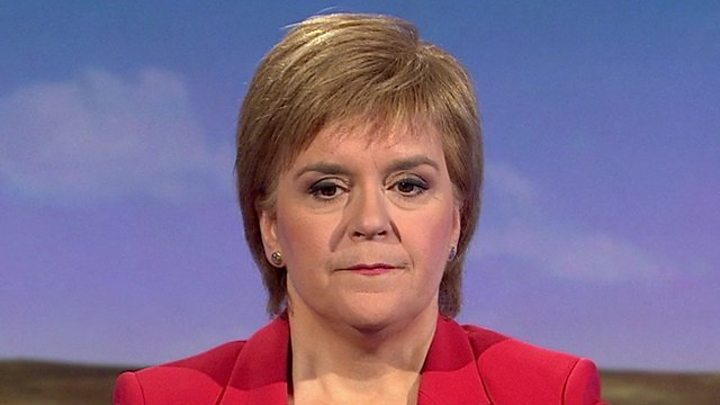 In a year of momentous news from around the world, the result of the UK's Brexit referendum was among the most dramatic.
The political fall-out at Westminster and the ruthless Conservative leadership contest that followed defied the imagination of even the most adept scriptwriter.
North of the border, where 62% of voters backed the Remain side, First Minister Nicola Sturgeon admitted she was upset by the decision of the UK-wide electorate.
In the most-read story of the year on the BBC Scotland news website, she warned that Holyrood could try to block the UK's exit from the EU.
---
2. Rollercoaster crash
Three days after the Brexit referendum, 10 people were hurt when a rollercoaster derailed and crashed at a theme park in North Lanarkshire.
Eight children and two adults were injured in the incident on the Tsunami ride at M&D's park near Strathclyde Park, Motherwell.
Eyewitnesses spoke of "silence followed by screaming" after the gondolas hurtled to the ground.
Photographs taken in the immediate aftermath show carriages turned upside, while passers-by rushed to help those who were trapped.
It later emerged that an inspector issued a safety certificate for the rollercoaster 16 days before the incident. He was subsequently banned by the Health and Safety Executive (HSE).
---
3. Check your fivers
Millions of new plastic £5 notes were put into circulation in the UK this year.
But it was a story about four very special fivers which captured the imagination of our readers.
Each was decorated with a tiny portrait of author Jane Austen by a specialist micro-engraver - and they were estimated to be worth more than £20,000 each.
One was spent in Kelso on Monday 5 December, while the others were used in England, Wales and Northern Ireland in the days that followed.
It later emerged that one was found after it was used to pay for a sausage and egg sandwich in Blackwood in south Wales.
Mr Short said: "Generally this artwork is out of the reach for most people. I wanted an ordinary man or woman to find it in their hands."
---
4. Indyref 2?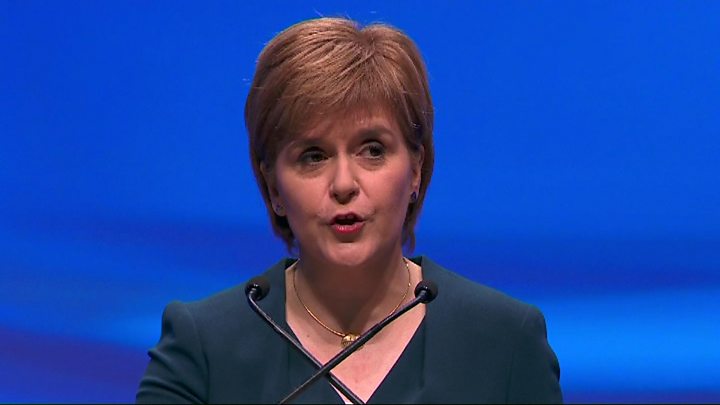 In the hours after the Brexit vote, Nicola Sturgeon held a press conference in which she said a second referendum on Scottish independence was "highly likely".
Three months later, she told the party faithful at the SNP conference in Glasgow that she was preparing to take the first steps towards indyref2.
To a rapturous reception, Ms Sturgeon said: "I am determined that Scotland will have the ability to reconsider the question of independence and to do so before the UK leaves the EU - if that is necessary to protect our country's interests.
"So, I can confirm today that the Independence Referendum Bill will be published for consultation next week."
---
5. Boxer dies after fight
The death of boxer Mike Towell in October shocked the sporting community in Scotland - and further afield.
The 25-year-old, from Dundee, died in hospital after suffering serious injuries in a bout with Welsh fighter Dale Evans.
He was only the third professional boxer to die in the UK from apparently fight-related injuries in 21 years.
Later it emerged that Mr Towell's partner, Chloe Ross, had made an official complaint to NHS Tayside about treatment he received for headaches.
She claims he begged doctors for a brain scan but was given painkillers for migraines instead.
---
6. It could be you!
When Hawick couple David and Carol Martin realised they had won half of a £66m National Lottery jackpot, they admitted they were in "total shock".
"If we had won £50,000 we would have probably been dancing round the living room," said Mr Martin, who worked for a housing association.
"But when we were sitting looking at each other and we had won £33m we didn't speak to each other for about five minutes."
---
7. Beware Storm Henry
Weather stories are always well read by BBC Scotland website readers and in February it was Storm Henry which grabbed the headlines.
As it left a trail of destruction in its wake, motorists were advised not to travel, while trains and ferries were also disrupted.
Dozens of flood warnings were issued, lorries were blown over, trees uprooted and buildings were damaged as winds reached speeds of up to 91mph.
---
8. New PM meets First minister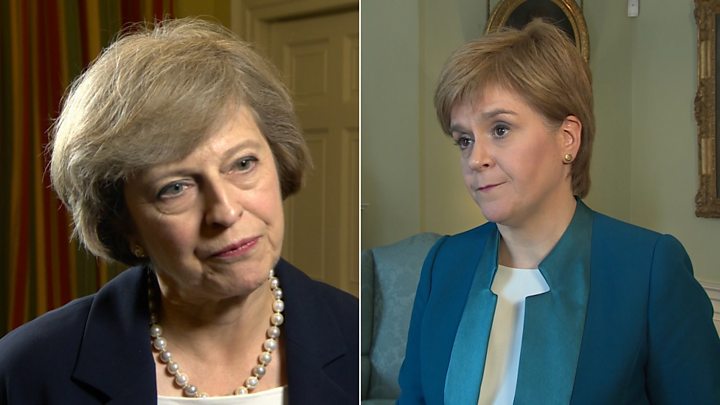 Another day, another Brexit story.
Just two days after succeeding David Cameron as prime minister, Theresa May travelled to Edinburgh to meet Nicola Sturgeon.
It was a move orchestrated to prove how important the new PM considered Scotland in her future plans.
But there was a clear divergence of opinion at the end of the meeting.
The first minister said she wanted to explore all the options open to Scotland on the back of the Brexit result - including holding a second independence referendum.
That was ruled out by Mrs May however. The people of Scotland sent a "very clear message" in 2014, she said.
---
9. 'Devastated' parents of drowned twins
The heartbreaking story of the two-year-old twin brothers who drowned in a fish pond at their family home is a difficult read.
Rhys and Shaun Scott died in hospital after they were found in the water at the house in Dalgety Bay, Fife, in March.
Their parents, Mervyn Scott and Sarah Aitken, said they were devastated to lose their "miracle babies".
"Both boys were long-awaited little soldiers who were full of love, happiness, fun and cheek," they added.
---
10. Meteor magic
Back in March, police in the north-east received a series of calls about a bright flash, or a "fireball" that was seen in the sky in some parts of Scotland.
Some people said they saw a blue, white or green light, while others said they heard a low rumbling sound.
Was it a bird? Was it a plane? No, experts identified it as a meteor.
Professor Keith Horne, from St Andrews University's school of physics and astronomy, said it would have been about 10cm (4in) across and it may have travelled at about 30km a second.
"What you've seen is a piece of rock from outer space that has crashed into the earth," he said.
"When it hits the atmosphere it starts to burn up... It releases all this energy into the atmosphere which will cause a bright flash and sometimes bits of this explode."
---
11. Number one dad?
It was a pretty good year for Andy Murray.
He took a second Wimbledon title, an Olympic gold, ended the year as world number one and scooped the Sports Personality of the Year award for a record third time.
But the real excitement started back in February when he became a father for the first time. His wife, Kim, gave birth to a healthy baby girl, Sophia Olivia, on 7 February.
Back home in Dunblane, his grandmother, Shirley Erskine, said she was "absolutely delighted"
---
12. Aberdeen beach deaths
The story of a mother and her young son who died during a day out to Aberdeen beach was heartbreaking.
Lucas Walker, 6, was swept away as he played on the beach in August. His mother, Julie, 37, tried to save him but they both died.
A number of bystanders, including Lucas's 13-year-old brother, tried to help.
Police urged members of the public to take care on beaches and in coastal areas.
---
13. Rescue teams thanked
When Rachel Slater and Tim Newton failed to return from climbing Ben Nevis in February, rescue teams carried out a series of searches.
As time passed, hopes of finding the experienced climbers faded and it wasn't until the middle of March that their bodies were eventually recovered.
It is believed they were caught in an avalanche before embarking on a climb on the mountain's North Face.
In the days that followed, the families of the couple paid tribute to the rescue teams who worked to find them.
"These brave and generous men and women have worked incredibly hard to find Rachel and Tim in difficult and dangerous conditions," they said.
---
14. LOL
It is common parlance among social media-savvy teenagers and it was famously misused by David Cameron in text messages to the former editor of The Sun, Rebekah Brooks.
But it was the first recorded use of "LOL" by a judge in a Scottish courtroom that caught the imagination of the readers of the BBC Scotland website in August.
Judge Norman Ritchie was told that a man convicted of a street attack in Glasgow had refused to carry out 150 hours of community service.
Instead, he boasted about it online, saying: "I'm out bro, easy."
Sentencing him to nine months in prison, the judge said: "As they say, LOL."
---
15. It's the way he tells 'em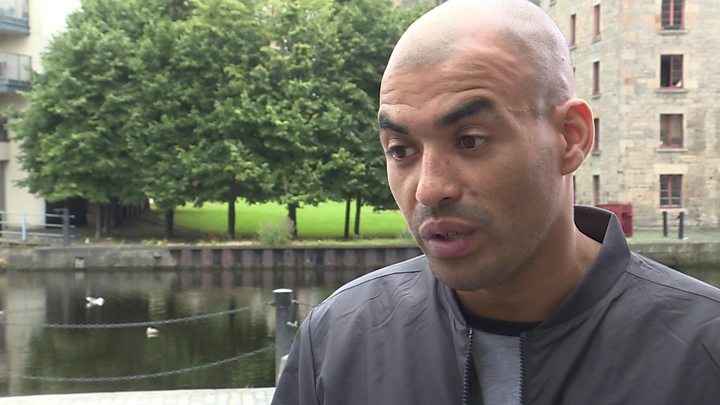 The annual award for the funniest joke at the Edinburgh Fringe regularly makes it into our most-read list.
This year was no exception, with West Bromwich comic Masai Graham scooping the rib-tickling honour.
He won with a one-liner: "My dad suggested I register for a donor card, he's a man after my own heart."
---