Post Office worker action affects branches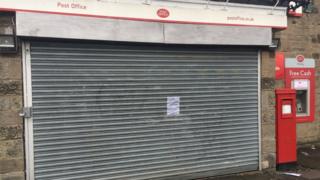 Strike action by postal workers has hit five of the 19 directly-managed branches across Scotland, according to the Post Office.
The affected branches are in Edinburgh, Glasgow and East Kilbride.
The Post Office said "99% of branches" would be open despite action by the Communication Workers Union (CWU).
Further action over jobs, pensions and branch closures at Crown Post Offices across the UK are planned for Tuesday and Saturday.
Delivery drivers to rural Post Offices are also taking action on Thursday and Friday.
There are about 25 Crown Post Offices in Scotland.
The Post Office said the following branches have been affected:
Morningside, Edinburgh
Wester Hailes, Edinburgh
Duke Street, Glasgow
East Kilbride
Hecla Avenue, Glasgow
Kevin Gilliland, network and sales director for the Post Office, said: "We want to reassure customers that nearly all of our network is unaffected by the strike action.
"It is business as usual, with more than 50,000 Post Office people on hand to support customers as they make their preparations for Christmas."
But the CWU has questioned the figures, saying that even if a branch is open, there may be a reduced service.
CWU general secretary Dave Ward said: "Our members are being forced into fighting to save their jobs and this great institution from terminal decline.
"We didn't want to be in this position, but unless we stand up now, the Post Office as we know it will cease to exist. We are defending the very future of the Post Office in this country."