Warning as air weapon licence deadline approaches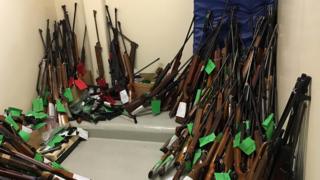 More than 18,000 air weapons have now been handed into Police Scotland ahead of new licensing laws that come into force at the end of the year.
New legislation to make it a criminal offence to own an unlicensed air weapon comes into force from 31 December 2016.
Failure to license a weapon could lead to fine or up to two years' imprisonment.
The Scottish government has estimated there could be up to 500,000 air weapons in Scotland.
Air weapons being held by people who have other firearms licences do not need to be declared until those licences are up for renewal - and some people may have multiple weapons.
Police Scotland said they were processing about 7,000 licence applications made before 31 October 2016.
Amnesty scheme
Applications received after 1 November will not be processed by the end of the year so police said weapons would need to be stored with a firearms dealer or another certificate holder after 31 December to avoid breaking the law.
Justice Secretary Michael Matheson said: "Every day the police, the public and animal welfare groups have to face the results of air weapon misuse, from anti-social behaviour to horrific and deliberate injuries to wildlife, pets and very occasionally people.
"By licensing air weapons we will take them out of the hands of those who would misuse them and better protect our communities.
"The new law coming into force is part of our long-standing commitment to eradicate gun crime in Scotland. We are not banning air weapons outright, but ensuring their use is properly regulated and users have a legitimate reason for them."
Police Scotland ran a high-profile amnesty scheme earlier in the year which saw thousands of weapons surrendered at police stations across the country.
Air weapon owners have been able to apply for a licence from 1 July 2016.
Anyone who wants to surrender a weapon is advised to contact their local police station.
Toddler's death
Assistant Chief Constable of Police Scotland, Mark Williams, said: "I would like to thank communities throughout Scotland for their support in relation to both the air weapon surrender campaign and the ongoing licensing process, where we have seen more than 18,000 unwanted air weapons surrendered to Police Scotland for secure destruction since the summer.
"Should you still have an unwanted air weapon, you can still hand it in. I would like to remind the public that anyone who still has an air weapon and wishes to keep it must apply for a licence."
The Scottish government pledged to introduce the licensing scheme following campaigning in the wake of the death of Glasgow toddler Andrew Morton, who was killed by an airgun in 2005.
The two-year-old died after being hit on the head with an airgun pellet near his home in the Easterhouse area of the city.