Hundreds of men in Scotland at risk of 'sextortion'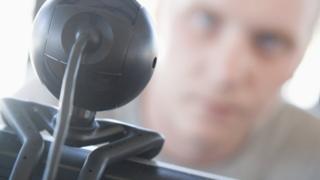 Hundreds of men in Scotland are likely to fall victim to so-called "sextortion", Police Scotland has warned.
Officers said men aged between 18 and 44 were most likely to be targeted by organised criminal gangs - usually based overseas.
Sextortion is a form of blackmail after victims have been duped into performing sexual acts in front of their webcam.
Police said four suicides in Scotland had been linked to this type of crime.
The warning comes after the death of Dunfermline teenager Daniel Perry, who fell from the Forth Road Bridge in 2013 after being blackmailed in an online sextortion scam.
The 17-year-old had believed he was talking to an American girl online.
However, he was later informed that his online exchanges had been recorded and would be shared with his friends and family unless he paid money.
Police Scotland Deputy Chief Constable Johnny Gwynne said: "This is a serious crime which can have catastrophic consequences for some of the victims.
"It is vital that victims are reassured that police will treat the report as serious and confidential, and that they will be supported as it is likely (given the nature of the crime) that they will be experiencing heightened feelings of shame, self-blame, fear and anxiety."
Deputy Chief Constable Gwynne said that increasing instances of sharing of indecent images was very concerning.
He added: "People need to understand they should only share pictures online that they are happy with their friends, family and others seeing."
He also urged anyone under the age of 18 who had been targeted to tell parents or teachers.
"They need to know how to keep their personal information private and to contact an adult if they feel threatened.
"Cyber-enabled extortion is a serious crime, and Police Scotland takes all reports seriously and investigates them thoroughly."