Obesity problem amongst Scotland's schoolchildren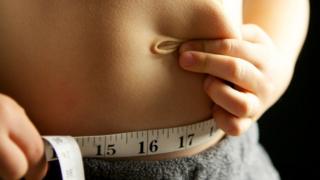 A fifth of children in their first year at primary schools in Scotland are at risk of being overweight or obese, according to new statistics.
Researchers found that the proportion of four and five-year-olds who were carrying too much weight had barely changed in a decade.
They also discovered that primary one children in wealthier areas were more likely to be a "healthy weight".
The Scottish government said it was committed to tackling the problem.
The statistics collated by NHS information services agency ISD Scotland were based on height and weight measurements taken from more than 53,000 P1 children across Scotland in 2015/16.
They revealed that:
More than three-quarters (77%) of P1 children are a healthy weight;
A total of 12.2% were at risk of being overweight;
Almost one in 10 children (9.9%) were at risk of obesity;
In least deprived areas, 81% of children were a healthy weight;
A total of 73% of children were a healthy weight in the most deprived areas.
Six years after the publication of an "obesity strategy" by the Scottish government, it also revealed that there has been little change in childhood obesity levels.
A total of 22.3% of P1 children were at risk of being overweight or obese in 2006/07, compared to 22.1% in the last academic year.
Campaigners warned that the obesity during childhood can lead to long-term physical and mental health problems.
Professor Linda Bauld, Cancer Research UK's cancer prevention expert, said: "The fact that so many children as young as four are entering primary school carrying too much weight is a stark reflection of the obesity epidemic that's gripping Scotland.
"As part of its new obesity strategy, the Scottish government can and must now do more, including tackling the barrage of supermarket multi-buy offers on sugar and fat-laden food and drinks.
"And while making sure children get enough exercise is a positive measure, you can't run off a bad diet and so emphasis must be placed on supporting parents to provide a healthy diet for their children.
"Obesity is also linked to 13 types of cancer including bowel, breast and pancreatic. If left unchecked, we run the risk of obesity becoming a crippling burden on society and the NHS."
'Best start in life'
Scottish Greens health spokeswoman Alison Johnstone said: "It's gravely concerning that so many children in Scotland will begin primary school at risk of being overweight.
"It's a stark reminder of the inequality that exists in our society, because it's no coincidence that there is a link between a family's wealth and their children's health."
The Scottish Liberal Democrats also called on the government to step up its efforts to win the "battle of the bulge".
Their health spokesman Alec Cole-Hamilton said: "NHS services are put under additional pressure by the need to tackle avoidable ill health caused by poor diet and lack of exercise, including diabetes, heart conditions and mental health problems. Struggling health services would benefit hugely from our being able to end the obesity epidemic.
"Scotland isn't winning the battle of the bulge and one of the most important ways to turn this around is to make progress in the early years. Ministers must step up their efforts to promote physical activity and healthy eating, giving the children the best start in life."
Aileen Campbell, the minister for public health, said the Scottish government will consult on its new diet and obesity strategy in 2017.
Free school meals
She added: "We are investing in a range of areas to support healthier lives for children and families, including investing £149m in free school meals for all primary 1 to 3 children, a total of £11.6m in supporting schools meet our P.E. manifesto commitments between 2012 - 2016 and £50m for Active Schools.
"We recognise we need a shift in emphasis from dealing with the consequences to tackling the underlying causes, such as ending poverty, fair wages, supporting families and improving our physical and social environments.
"That's why we are driving investment in affordable housing and continuing commitments including free prescriptions, concessionary travel and free personal care.
"We are also investing £12m over five years to 2017 on a range of programmes to specifically tackle the nation's poor diet, including engaging with the food and drink industry on action to offer healthier choices, rebalance promotions, and reformulate products, with a focus on reducing calories, salt, fats and added sugar."