Airline pilot suffers heart attack at Glasgow Airport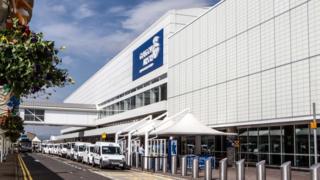 An airline pilot suffered a heart attack as he taxied the plane to the runway at Glasgow Airport.
The captain of the KLM aircraft became unwell as he was about to leave for Amsterdam, in the Netherlands.
He was resuscitated by the crew with the help of a passenger, and firefighters helped take him off the plane.
The Dutch pilot was then taken to the Golden Jubilee Hospital in Clydebank where he was in a "stable condition".
The co-pilot of the plane, which had 128 people on board, took the aircraft back to the gate.
The flight was supposed to leave at about 17:00, but because of the emergency it was cancelled and passengers had their flights re-booked.
A spokeswoman for KLM said: "During taxiing to the runway on this KLM flight to Amsterdam the captain became unwell and the staff treated him with the help of a passenger.
"He was taken to hospital where his condition is stable."
A spokesman for the Scottish Ambulance Service said: "We took a call that a man was having a heart attack at Glasgow Airport. We attended the scene and arrived at 5.25pm."