Sunny and dry November breaks Scottish records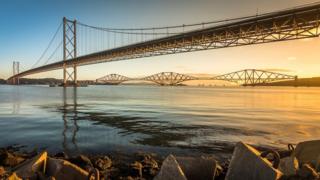 Scotland experienced its sunniest November since records began, as everywhere in the UK except southern England enjoyed a bright autumn.
The 65.8 hours of sunshine recorded by the Met Office was in contrast to the 30-year average of 45.8 hours.
The previous record November was in 1989, when 60.6 hours of sunshine was recorded.
November was also unusually dry in Scotland, with only 68% of the normal rainfall recorded.
The Scottish rainfall figure of 113.1mm was significantly below the 166.3mm average.
BBC Scotland weather presenter Christopher Blanchett said: "November has seen several blocking weather patterns leading to spells of high pressure that can last for days.
"When these blocking highs occur, the weather is calm and largely dry. We can also see easterly winds develop which bring colder air at this time of year.
"The reason for the blocking pattern is all down to the jet stream running at a slower pace than previous years.
"The jet stream is a fast moving ribbon of wind way up in the atmosphere that travels across the Atlantic.
He added: "It's been in an undulating or wavy pattern, which helps to block wet and windy weather systems moving in from the Atlantic. It leads to more settled weather, with sunny spells and light winds."