Scottish football abuse 'epidemic' feared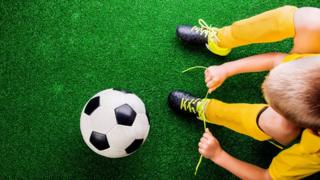 The number of young people abused at Scottish football clubs could run into the hundreds, according to a child sex abuse support group.
Andy Lavery, from White Flowers Alba, said the survivors' group had already spoken to ex-players and told the BBC he feared a "hidden epidemic".
Police Scotland has confirmed its officers have received reports of historical child abuse within football.
The force has been in touch with the Scottish Football Association (SFA).
The SFA said earlier in the week it was meeting to discuss child safety within the game.
It comes after a string of historical claims were made by former players in England.
Mr Lavery, who is himself an abuse survivor, said he believed there was a "systemic penetration" of footballing culture by paedophiles.
He told BBC Scotland: "I do not see people coming forward in the numbers which reflect the scale of the problem. They talk about the tip of an iceberg, they haven't even got in the rowing boat to get to the iceberg yet.
"They talk about football being a national sport - at the moment it's a national disgrace."
He said members of his abuse survivors peer support group had heard from several former football players.
"The players who have come through to my members are not coping at all - but at the same time they have coped in their own way because they're still alive.
"What I'm hearing is there have been a number of suicides."
He added: "They [the abuse survivors] fear being ostracised in the machismo culture of Scottish football and how Scottish football fans punish any criticism of the clubs, which is really infantile and is the very environment which breeds child abuse."
Mr Lavery said he now wanted to open a discussion with the football authorities in Scotland.
The SFA has been urged to launch a full investigation to determine the extent of sexual abuse in the game.
The English FA has appointed an independent lawyer to assist with an internal review of its handling of allegations.